text to speech
10 Best Tools to Make Podcasts in 2022 And Beyond
Mar 9, 202219 mins read
Long gone are the days, when you needed a proper studio and equipment to create a podcast. With technology powering everything, AI-based tools are transforming the ways of doing business. With the help of AI-based tools to make podcast have made possible to push out podcast into market within a day or even few hours. For your surprise, tools to make podcast are credible, affordable and offer one-click-solutions.
The podcasts are getting popular over time, and many companies are focusing on producing quality podcasts to increase followers and customers, ultimately offering them great visibility and boost to the businesses.
AI-powered and automation-based tools to make podcasts come with many intelligent features, and the abundance of these tools in the market can be overwhelming, so you need to choose carefully to create a quality podcast.
A Pro Tip: You can try out automation-based intelligent tool, WebsiteVoice to make your podcasts. No paid actor's voice is needed. Just run your text script through WebsiteVoice, and there you go with most interactive, engaging human-like voice to entertain your audience. Later you can give tiny bits of edits such as adding background music and your podcast is ready to hit the market with a BAM!!!
This tool is best for you if you need to make podcasts in more than one language. Its a complete package of accuracy, credibility and affordability.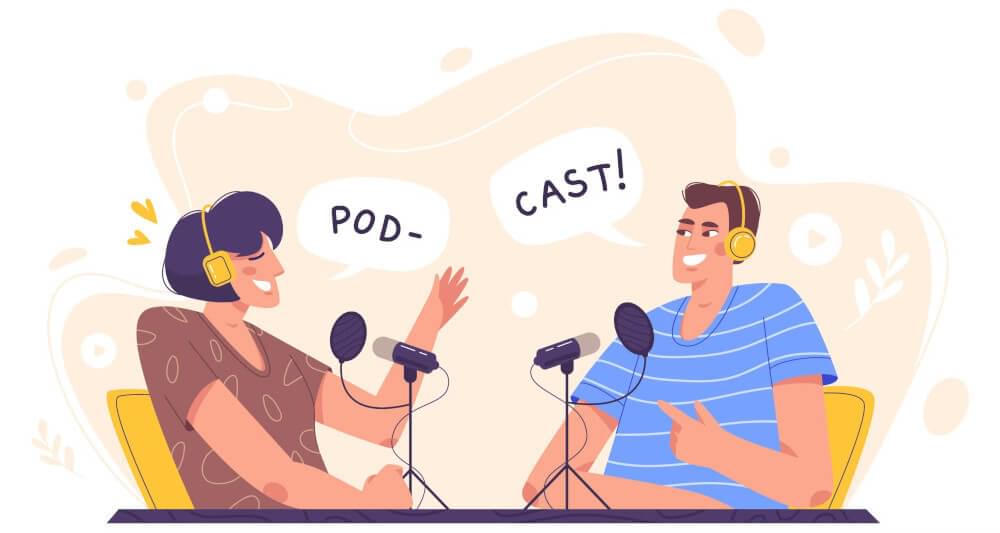 How to choose the best tools to make podcasts?
Like any other thing, In-depth research and analysis of products before making a final buying decision is very significant. You can prepare the checklist of the requirements you are looking from podcast making tool. Check out the following details and they might be a great help to you before making a buying decision.
1. Podcast tools—handy to use
Every business is seem to jump for kick-starting its own personalized podcast and most of them are not aware of the technicalities podcasting may involve. Therefore, to begin with, go for simple tool for recording and editing. You can look for a lightweight, user-friendly, easy-to-use tool to make a podcast.
2. Editing Features—most of them are one-click-based
In the market, there are two types of podcast software available. One is only for editing, and the other one offer both editing & recording. To deliver a high-quality podcast, you need the best features of podcast software.
If you are new to podcasting, choose the tool with both recording & editing and if you are skilled in recording, go for the best tool for editing for the desired result.
3. A great deal of customization
Another key factor you need to consider while selecting the best tool to make podcast tool is that it should offer customization to a great extent. For instance, WebsiteVoice offers customization for picking the desired accent and dialect in both male and female voice. It simplifies the conversion of bulk of text into audio. Converting the audio into different languages is also more simpler than ever.
4. Pricing—Budgeting is important for podcasting
Budget is an essential element while choosing a handy tool to make a podcast. You can find free and some paid podcast tools in the market. It would help if you went for the free version at the start; later, you can switch to the payment option.
You might find it a useful reading: Podcasting - How to Promote a Podcast? To Get More Listeners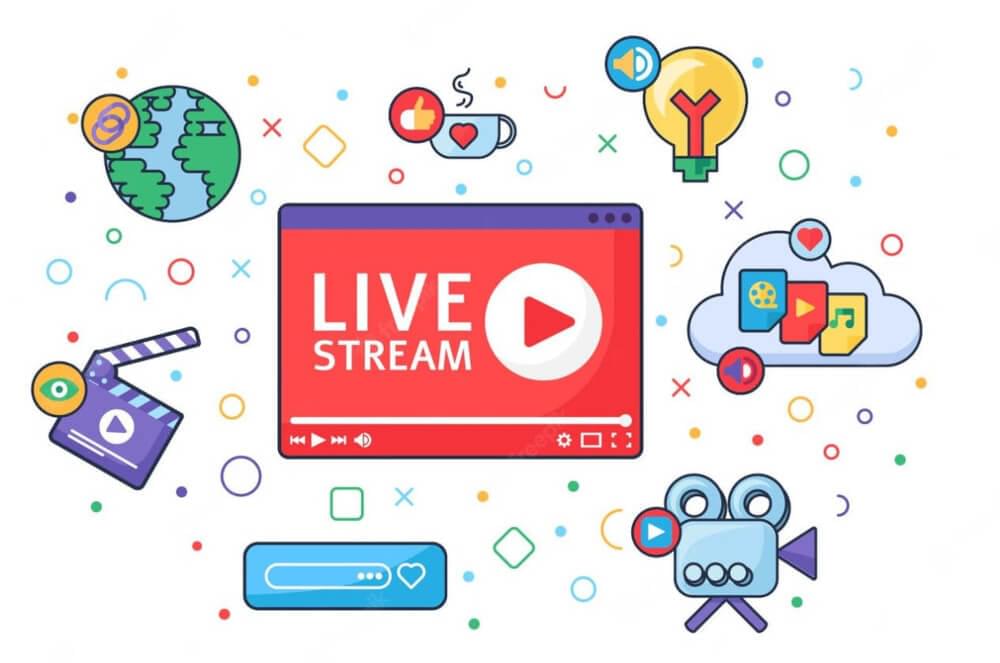 10 Best tools to make podcasts in 2022 and beyond
This blog's read will help you make best buying decision on handy and intelligent tools to make your podcasts marketing strategy a success.
1. WebsiteVoice—converts bulk of text into audio with just one click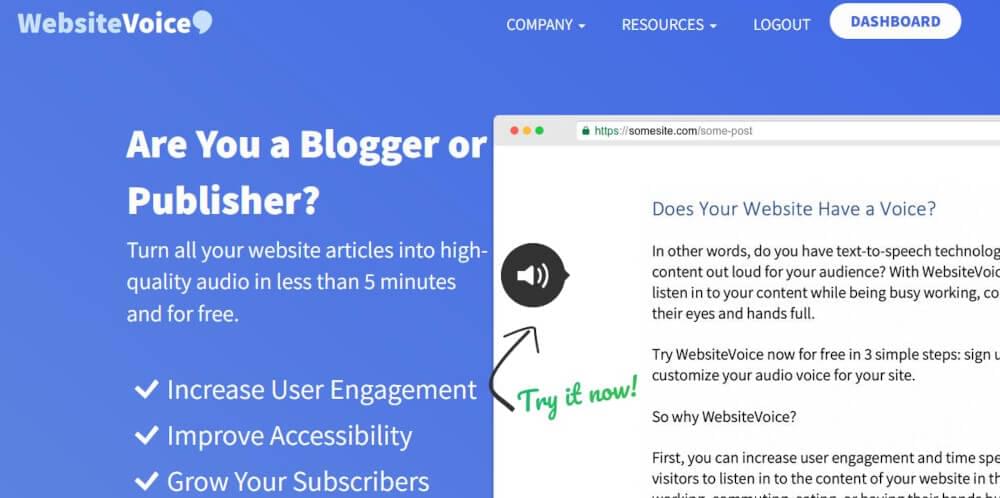 WebsiteVoice is all-in-one solution for you if you are looking for handy text-to-speech tool that could make your web content, blogs and podcast accessible to the far corners of the world. It has the capability to convert bulk of text into audio in a matter of minutes—conversion into your desired language and accent comes along.
Try out wonderful features of WebsiteVoice that come with extensive customization options. We can ensure you making podcasts with WebsiteVoice will turn out to be an amazing solution to all your road blocks.
You can turn your script into podcast or an audio blog within just few clicks, few minutes and few bucks.
Key Features:
Accessibility features
Customizable audio widget
Audio analytics
MP3 downloads
Customer support
Change color and audio button style
Add custom pre and post text
Voice speed control UVT
2. Restream

Restream is a full-fledged tool to make podcasts. It has all the features you need to record, customize, and promote your audio blog. It offers split-track recording to make audio with multiple guests. You can record audio or video with the dashboard without going live.
Compatibility:
Web-based
Key features:
Record without going live
Save files in the cloud with up to 100 GB of storage
Hi-res 48kHz audio
Split-track recording
Echo removal
Noise elimination
Stereo sound
Pros:
Excellent features are available on the free plan.
It has live streaming and multi-streaming abilities.
Also see:
11 best wordpress audio player plugins of 2022
3. Adobe Audition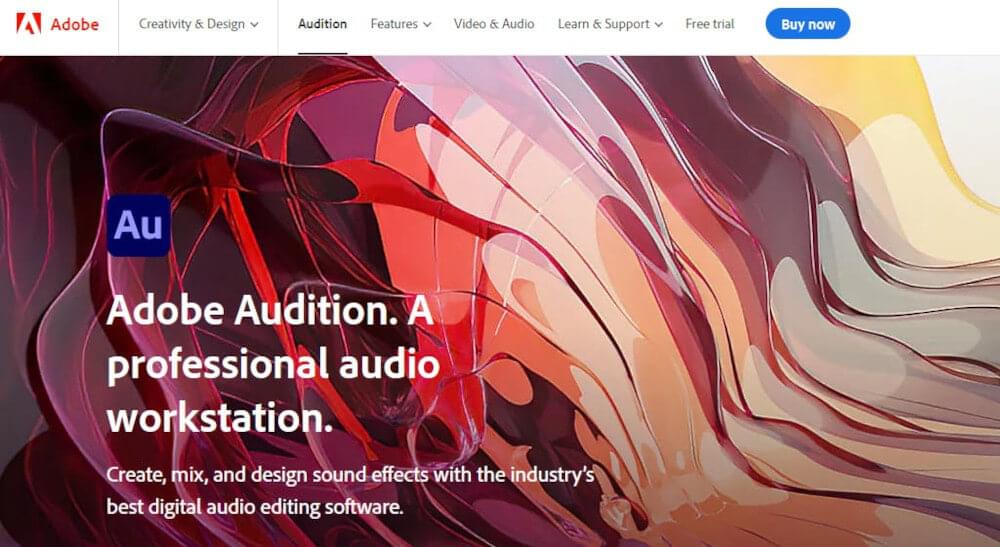 Adobe Audition is a premium tool to make podcasts. It can create, record, mix, edit and restore audio content, and its advanced features will give a professional and excellent quality touch. It has a wide range of recording & editing tools, which permits professionals to make audio tracks for many projects.
It also comes with great quality sound, which delivers a crisp sound. It has podcast templates to set up multi-track recordings to record and edit different audio tracks and voices.
Compatibility:
MacOS, Windows
Key Features:
With the help of spectral analysis, it removes unwanted surrounding sounds from the podcast voice.
Control the volume levels of music beds/ music, fading in, fading out, and under voice.
Professional sound panel for quality audio.
Single and multi-track recording options.
Noise reduction capacity.
Batch processing can help you apply effects to one file and save those settings for another batch so you can use them.
Adobe Audio Essential Sound adds music, SFX, dialogue, and ambiance voice.
It can add more than 50 audio effects.
The multi-track function can mix different tracks easily.
The Frequency Analysis feature forms your sound and places it over different tracks.
It provides an essential sound panel that you can use to add important sound and effects to the podcast.
Pros:
It restores audio easily.
Adobe is a well-settled brand so that you can get many tutorials online
Features geared toward podcasting
Professional audio features for podcasting.
Provides batch processing features.
Cons:
Expensive.
Only for professional users.
4. Audacity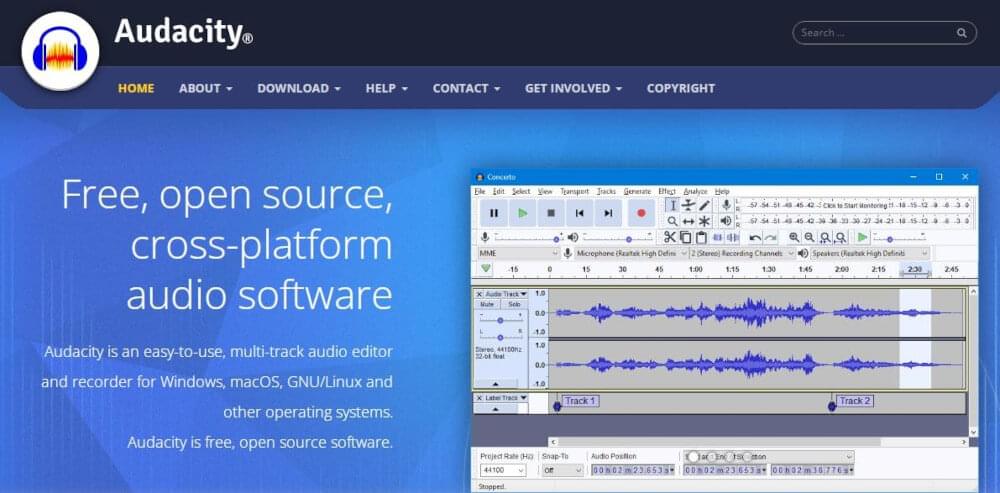 Audacity is a free tool to make podcasts and one of the best software for beginners. It has all the basic functions for recording and editing an audio blog. You need to attach a USB microphone and start recording.
Its main windows function as a dashboard, where you have all the editing tools, mix audio tracks, and control recordings. It has audio processing effects, eliminating background voices, coughs, and other distracting sounds.
Audacity is an excellent podcast tool, but it doesn't support MIDI or instrument plug-ins. So it is not a better option for software that can be used for music and podcasting.
Compatibility:
MacOS, Windows, Linux
Key features:
Sync-lock
It has the excellent audio quality and supports 16-bit, 24-bit, and 32-bit audio recording.
Ability to import/export audios in several formats.
Easy editing podcast option
It supports multiple special effects like LADSPA, LV2, NY Quist, VST, and Audio development effects.
It updates regularly to offer all the latest features.
The spectrogram view function provides the visualization and selection frequently, extensively.
An extensive range of keyboard shortcuts helps you track and control the selections.
Pros:
Audacity is completely free.
It is easy to use once you get used to its functionalities.
Record live audio, either with a microphone or a mixer.
Easy in handling and editing like cutting, copying, and paste.
Supports most used file formats.
Cons:
No multi-track recording.
Comprises essential audio editing tools.
GarageBand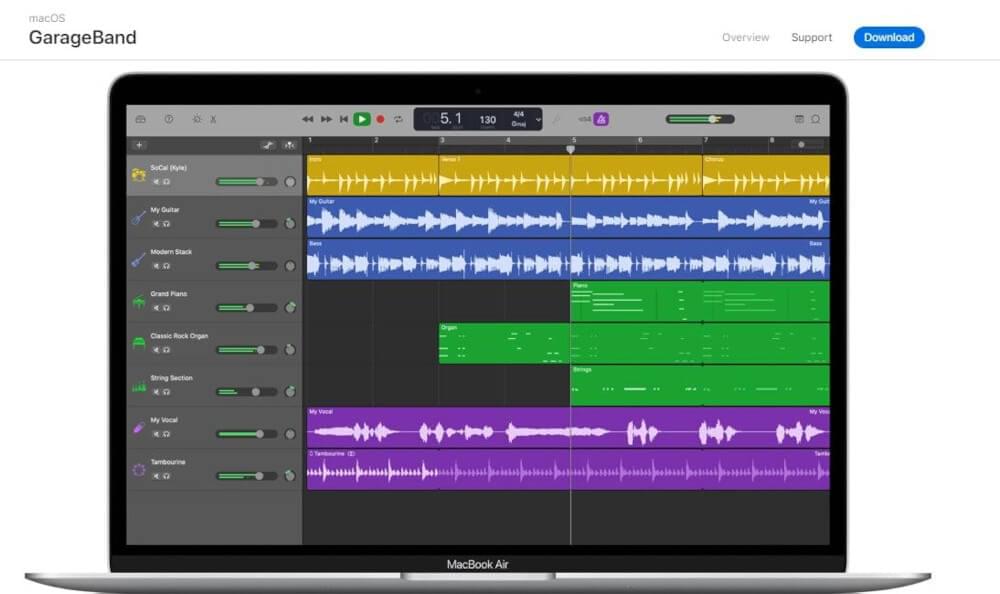 GarageBand is a fantastic tool to make podcasts that provides you with a MIDI synth station, instrument plug-in support, and a stellar interface. It is free audio editing software with optional features available on most Mac computers.
It is primarily used as beginner podcast software. It offers basic features like volume levels, cut, copy, and paste. It has the capability of mixing up 255 audio tracks. It has built-in templates, sound profiles of male and female voices, jingles, strings, and sound effects.
It offers you separate tracks for intros, outros, ad spots, and music.
Compatibility:
iOS, macOS
Key Features:
You can easily add a track to your podcast using your iPhone or iPad.
It can adjust the voice of a podcaster and optimize it into a better professional podcast recording.
Simply handle EQ, mix compression, and make average levels to a higher point.
It works with the Logic Remote app to make a second screen.
It has a sound library with effects that you can add to your podcasts.
It has the option of iCloud back graphics.
Visual graphics and compression effects are to enhance the quality of your recording.
Pros:
It reduces your post-production work by adding real-time effects to your audio blog.
It can add countless tracks to your podcast.
You can adjust volume reduce and increase the musical loop.
It comes with a user-friendly interface.
Alter and adjust sounds as you need.
You can also change the pitch and velocity of tracks.
The MIDI sound tool can make excellent background music and jingles for your audio track.
Superb podcast recording abilities on macOS and iOS devices.
It provides advanced audio editing tools.
Provides a broad range of file-sharing choices.
Easily affordable than most podcast recording software.
The audio recording and editing tool is portable.
Free.
Clear user interface.
Cons:
At least you require a basic audio recording and audio editing experience.
It is not available on PC and android devices.
It doesn't offer split-track recording for multiple podcasters.
Unavailability of advanced features.
6. Hindenburg Journalist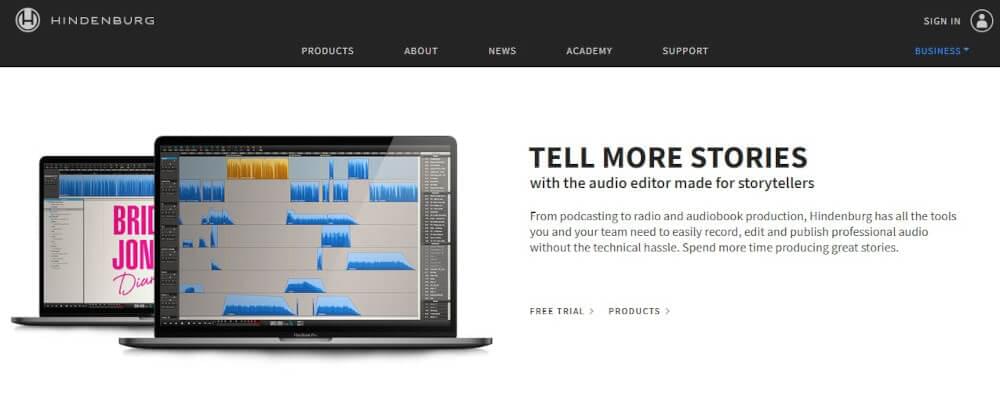 Hindenburg is a tool to make podcasts for journalists and audio narratives. It is Digital Audio Workstation with good audio processing features.
It provides you with an uncompressed audio track of maximum spoken-word quality. It automatically equalizes voice levels and audio profiles, whether you are interviewing people in the studio or over the phone outdoors.
Its organization tools help you arrange good quality sound bites from each interview, add music effects, and place multi-track clips. You can zoom in and check how the story fits.
Moreover, it gives an automatic equalizer that maintains a consistent sound in every recording.
Compatibility:
Windows, MacOS.
Key features:
It automatically sets even based on loudness.
It will complete all your processes like a record, import, edit, alter, add sound, and directly publish to SoundCloud and Libsyn.
It saves audio clips with the clipboard for later.
This tool can be used for iOS mobile recording.
Pros:
Easy audio recording setup.
Supports many audio files.
Produced EQs automatically.
Created for podcasters and journalists.
High-performance value.
Cons:
Quite more expensive than most podcast software.
It features essential audio editing tools.
In the pro version, you can get full features.
7. Logic Pro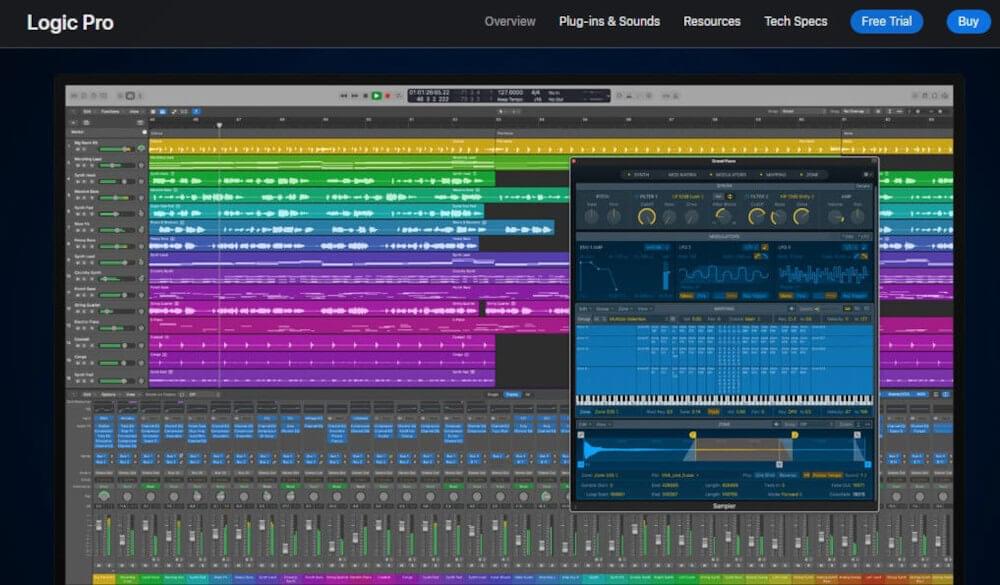 If you have worked on Garage Band, it will be easy for you to work on Logic Pro because it is a more advanced tool to make podcasts than it is, especially for Mac consumers. It is one of the best podcast software for professionals with many latest features.
It's a greater-quality recording with advanced editing capabilities software that is easy to use. This podcast tool offers up to audio tracks, hundreds of plugins and software instruments to complete high-quality audio content.
Compatibility:
iOS, MacOS
Key features:
Live Loop function helps you organize and make podcasts/music in real-time.
Logic Remote can control its features, including Remix FX and more, from iPad or iPhone through multi-sensory motions.
Multi-Touch mixing can handle your mix from any device, either for smartphone, desktop, or tablet.
Ultimate recording enables automatic and consistent recording.
Helpful in editing, mixing, and beat-making.
Gives high-quality sound
Huge range of plug-ins and sounds
Consists of Spatial Audio
Assist 24-bit/192kHz recording.
Pros:
Select the best takes off a recording using a click and drag function.
Makes excellent audios using EQs, dynamics processors, and other premium product features.
With Mail Drop and AirDrop, you can easily share tracks.
Provides professional audio recording tools
A vast collection of plug-ins and sounds.
More than a thousand stereo or audio tracks can be added to the timeline.
Cons:
Tough technical requirements.
Usable on Mac computers only.
8. Alitu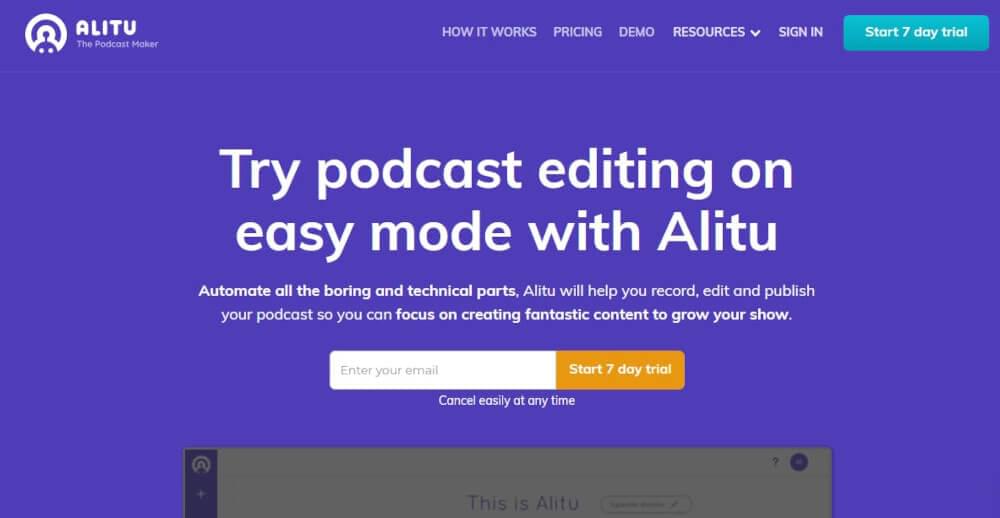 Alitu is a user-friendly automatic audio editing tool to make a podcast for beginners. You need to upload the file and it will edit it by improving its quality.
Alitu makes it easy to record audio with your desktop, whether you are doing it solo or with a guest. It records your vocals and the guest's vocals individually, making it easy to edit later.
If you use another tool for recording, after record, you can upload it to Alitu. It gives both automatic and manual editing features, making it easy to edit. It automatically removes background noises and levels the volume.
Compatibility:
Web-based
Key feature:
Automatic audio cleaning.
Drag-and-drop editing features.
Upload audio files of any format.
Directly publish to podcast hosting provider.
Pros:
It has a quick and straightforward podcast-making process.
Support for an extensive range of audio file formats.
Easy to upload podcasts directly to Libsyn, Pod bean, Buzz sprout, or any other podcast hosting platform.
Superb noise elimination capabilities.
Web-based tool to use anywhere.
Easy to use
Cons:
At a high price, it offers limited audio recording and editing features.
Web-based compatibility means it's less useful for long recordings.
Audio quality is less than the other beginning-level DAWs.
No mobile app.
Check this out:
10 Best Tools for Digital Marketing in 2022
9. Auphonic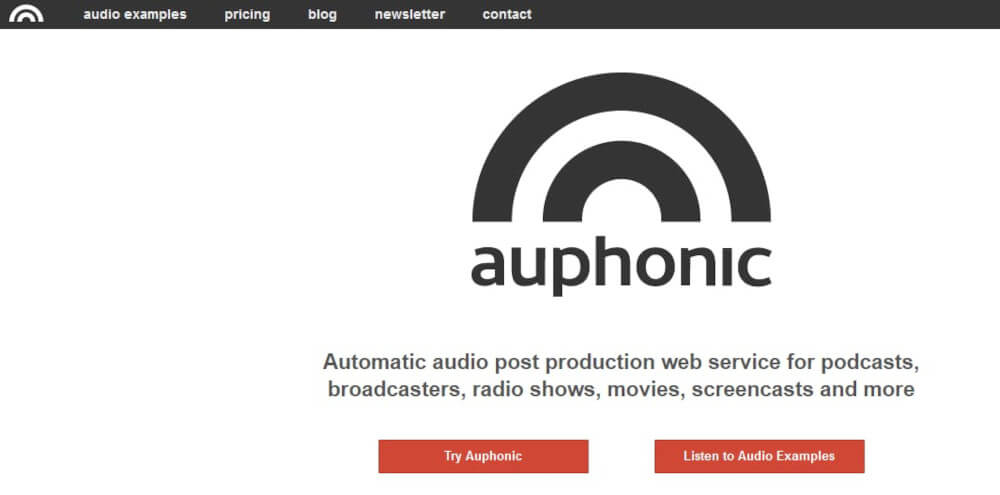 Auphonic is editing podcast software. You simply upload the audio file, and the tool will include the audio level after removing the background noises.
It also offers a transcription of your recording.
Compatibility:
Web-based, Windows, macOS, Android, iOS
Features:
Transcribes in more than 80 languages.
Easily exports to YouTube, Dropbox, Google Drive, and SoundCloud.
Automatic audio noise and cross-talk removal.
Add chapter marks and metadata to audio files.
Desktop and mobile apps.
Pros:
Speech identification audio transcription.
Affordable.
Exports to cloud storage systems.
Cons:
No recording.
All features are not available in the desktop version.
Still, it needs some edits from DAW.
10. Reaper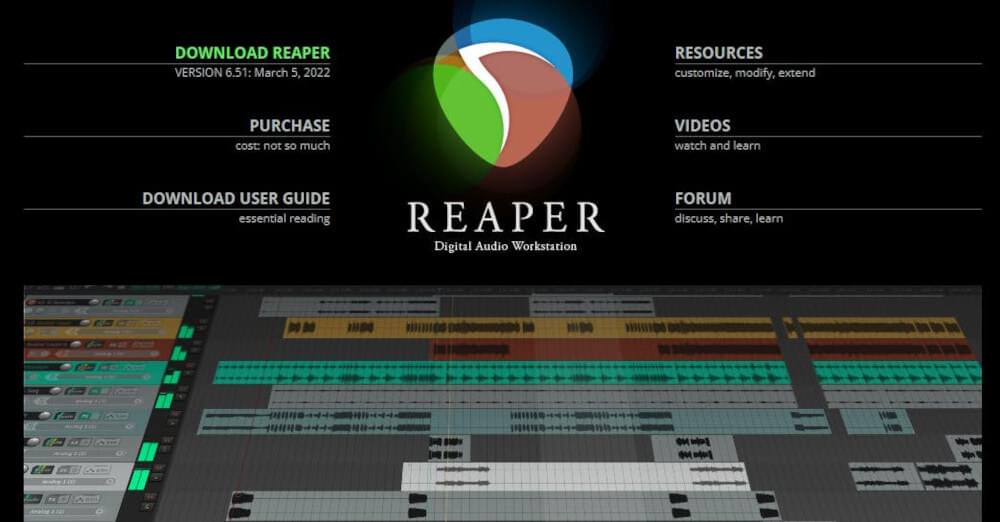 Reaper supports you to record, edit, process, and mix audio with MIDI tracks. It is a lightweight, user-friendly, and good-performance tool to make podcasts.
It is also famous among musicians because it increases the quality of the audio track.
You simply need to click a button to record. After recording, editing is also very easy, which doesn't take much time. It is a very affordable podcast tool.
Compatibility:
Linux, MacOS, and Windows.
Key features:
Extensive library of studio-quality effects.
64-bit internal audio processing.
Assist third-party plug-ins and extensions.
Customized skin and layout.
Audio and MIDI routing.
Pros:
Free trial for 60-days and discounted license fee for only $60.
Fast startup.
Customizable UI/UX.
Cons:
No mobile app.
Less online tutorials.
Let's wrap it up
The podcast is a terrific medium for telling stories and connecting with the audience who like it. By producing excellent audio content, you can capture the attention of numerous people.
Making a podcast does not require a lot of budget—if you have handy text-to-speech reader tool available at your hand. We hope this blog would have helped you with some valuable insight into audio content generation tools and it might help you with keeping your business marketing game strong. The best tools to make a podcast, reduces the efforts and adds value your marketing strategy, to audiences' experiences and help both parties to achieve goals and certain outcomes out of it.
After careful considerations, its time for you to grab some of audio tool and start making high-end podcasts for your business and audience.
Improve accessibility and drive user engagement with WebsiteVoice text-to-speech tool