accessibility
11 Best Tools for Digital Marketing in 2023
Feb 24, 202213 mins read
Digital marketing tools are becoming fascinating gears to ease down the endless hassle of executing a robust digital marketing strategy.
The right digital marketing stack can help you zoom past the cutthroat competition and endless hard work.
Some digital marketing gears are phenomenal such as audio tools, smart analytics, design tools, video-making tools, email marketing and rank trackers tools.
Take your digital marketing strategy to the next super flawless level with the help of AI-based and automation-powered tools. This blog will focus on some of the fascinating tools that are filling up the world with awe.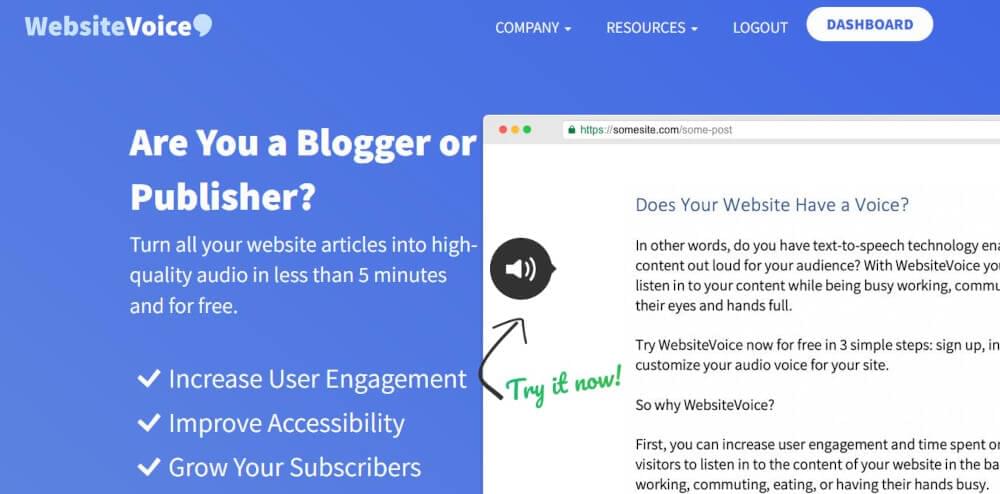 Website Voice comes with several fascinating features that are capable of giving your business a whole new cutting edge.
From making your website accessible by sending out the voice of your business in every corner of the world no matter what language they speak and understand, content creation either its video making, podcasting, blogging, transcription, or translating bulks of content, audio conversions in to multiple languages have become few clicks and few minutes job.
If you expand into paid tiers, you can grab on some advanced and super-fascinated features making content creation hassle-free like never before.
Audio technology is on its way to become the next big hit in content creation and business marketing. When it comes to fastest services delivery, automation of business tasks, accessibility of the right information to every living being on this planet—is the forte of audio technology, you cant ignore anymore.
Audio technology may not overcome the fame of video technology, but it will surely enhance video content creation into more refined, sophisticated, and fast-paced.
From giving the most human-like voice preferred into your recommended accent and dialect to your landing pages, blogs, podcast and videos, automation of content conversion in different languages, WebsiteVoice is one-stop-solution for the seamless execution of digital marketing strategy.
Ultimately, WebsiteVoice will help you to:
Make any form of content (blogs, podcasts, videos and social media posts) accessible to everyone.
Giving a whole new voice to your business can grow traffic, convert leads and enhance ROI and inbound marketing strategy.
Automation of managerial tasks and content creation can help you speed up delivering services and focus on what's more important leading to making best business decisions.
Price: Free full featured free trial available for 14-days. Starter plan at $9/month, Premium plan at $29/month, Professional plan at $49/month. WebsiteVoice can be a game-changing tool for a digital marketing execution plan.
2. SubtitleBee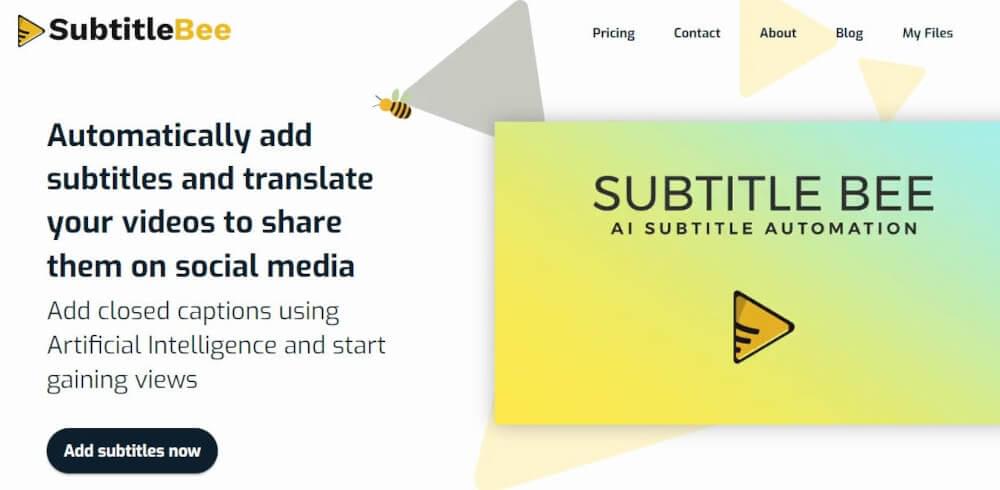 From creating closed captions and subtitles in 100+ different languages with the accuracy of 99% accuracy—is something that can speed up up to 50% of the execution of business and marketing strategy plans.
SubtitleBee is the smart AI-powered tool that can punch up your website's traffic through the content being accessible to search engines and making it visible to users.
SubtitleBee is impressive with features that enable video making and hassle-free podcasting. It takes kind of offensive if content creators don't add up subtitles and closed captions to audio-visual content.
Eventually, Subtitle Bee will help you:
Making accessible videos and podcasts to far corners of the world, no matter what language they understand and speak—your audio-visual content would stands high.
Automation of subtitle generation, transcription and translations into 100+ different languages.
Video content creation, transcribing and podcasting becomes stress-free with Subtitle Bee.
Price: Tiered pricing, from free to $19 Subtitle Bee can give a whole new cutting edge to your digital marketing strategy.
3. Google Analytics
From a startup to enterprises, it is hard to operate without the smart analytics of Google analytics.
It gives you an in-depth tour to analytics of how your website performing, including all landing pages and users' responses to your website. Beyond that, you can track the conversion rate to build a more robust online business setup and track user behavior.
Frankly, barely a day goes by for businesses when they don't check up on Google Analytics.
Therefore it wont sound like fancy talk for businesses to find Google Analytics a happy-go-lucky tool for digital marketing.
In the long run, Google Analytics will help you:
In-depth analysis of metrics and visibility into user behavior, engagement and conversion—ultimately helping you set the right goals for digital marketing.
Help you plan, execute, and thrive at the digital world better—eventually helping you make the best and most confident business decisions.
Price: Free
4. Google AdWords

Google AdWords is a celebrated tool for digital marketing especially when you want to bring more meaningful conversions through paying per click.
Through Google Keyword Planner, you can plan out the relevant keywords to be put out to your advertisements. It gives you leverage of how much you can spend on the paid advertisement campaigns.
Google AdWords is the most superb way to get the best results of your hard work on advertising your business.
Price: It works on pay-per-click model.
5. MailChimp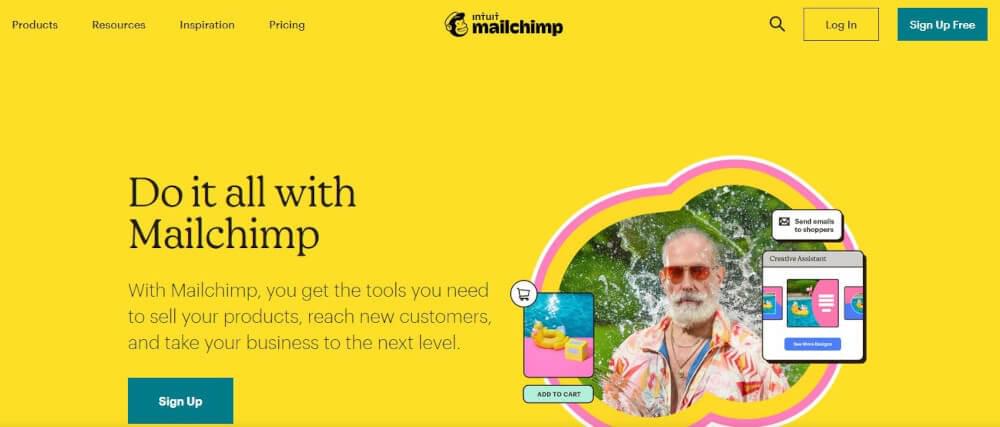 MailChimp is an email marketing and tool for digital marketing developed to automate and execute marketing campaigns.
This tool for digital marketing is potent for email drip campaigns. MailChimp offers numerous integrations with other SaaS businesses other than tracking traffic on your campaigns. Ultimately, it's a good option for engaging with your audience.
Price: Start free and range up to $199.
6. Trello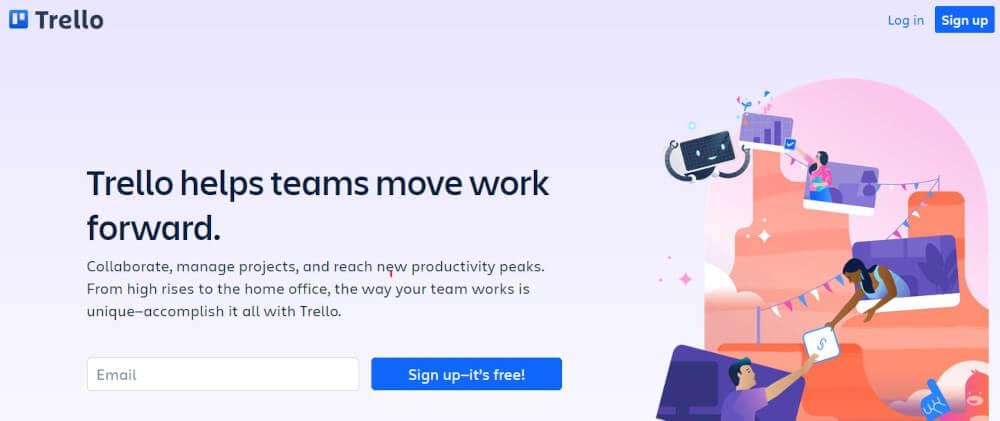 Trello is a project and content management tool that many businesses use for masterminding and strategizing content—in fact, Use Trello to know when blog posts, videos, and podcasts are going out for publication.
On the basis of grounds that make Trello so fascinating is that it's free for startups and small teams, and it offers more seamless way to visualize and think through the robust plan for content creation—even for remote teams or in-house teams.
Further, it's seamless to assign numerous employees to a card, so you know who's in charge of writing, editing, or publishing social media posts.
Teams can create cards, include notes on the card topic, decide deadlines, and designate topics to specific team members. Trello enables collaboration and offers clarity on projects in the pipeline.
Price: From free to $20.83/month for the enterprise.
7. Canva Business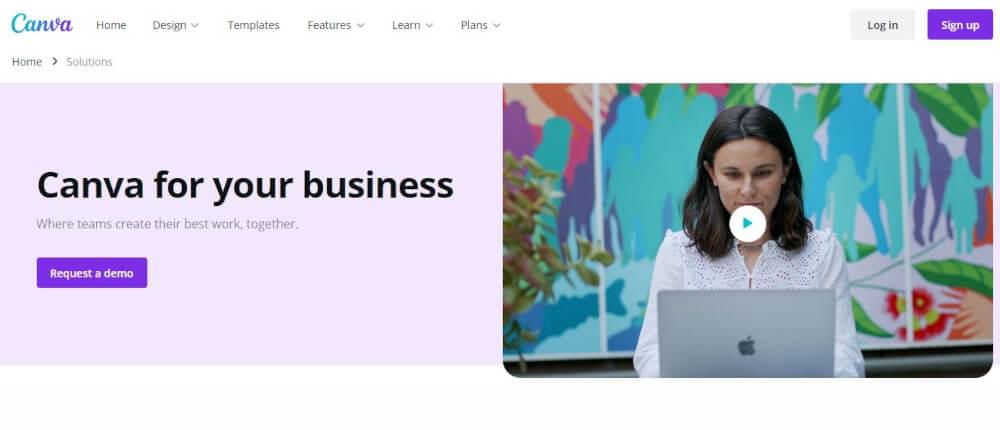 Canva is a drag-and-drop design forum that permits content creators to design images by taking help from the plethora of customized pictures, icons, shapes, and fonts from the Canva catalog. It provides an aesthetically-pleasing and seamless way to design social media posts, banners, images, or infographics based on your digital marketing needs.
Additionally, Canva is a substitute for a professional designer and allows you to design the same visuals best suiting to your creativity and business needs.
Price: From free to $12.95/month for small teams to large teams.
8. Mobile Monkey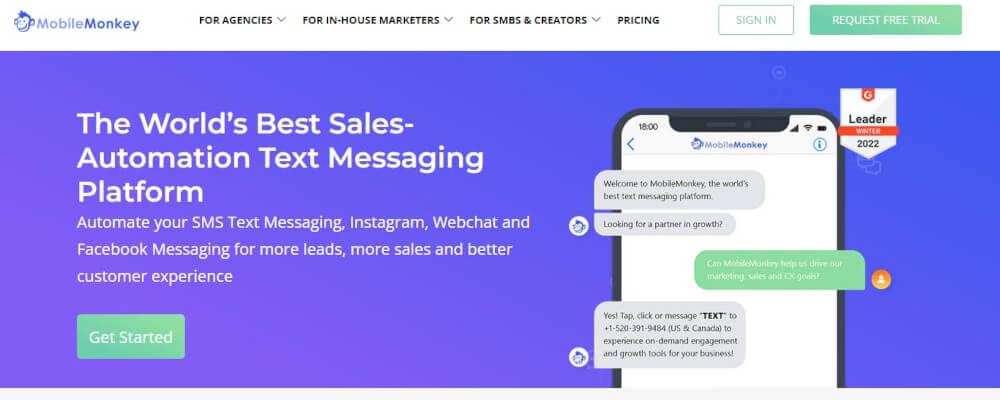 MobileMonkey is a game-changing digital marketing tool that offers content creators a seamless interaction with their users.
With 75% of users declaring that interacting with a business is more seamless to connect than over email or phone—real-time interaction with users to know their requirements can help you execute digital marketing strategy better.
MobileMonkey is an excellent choice for digital marketing and business support as it connects to all your users' most favored messaging channels, in particular:
Instagram DMs
SMS text messaging
Live chat
Facebook Messenger
With MobileMonkey, all live chats from different platforms such as Facebook or Instagram are available on a single platform.
From a one-chat platform, MobileMonkey also makes it seamless to automate responses, gather the right info, and dispatch leads straight to your marketing teams
Price: From free to tiered price plans.
9. Jotform Sign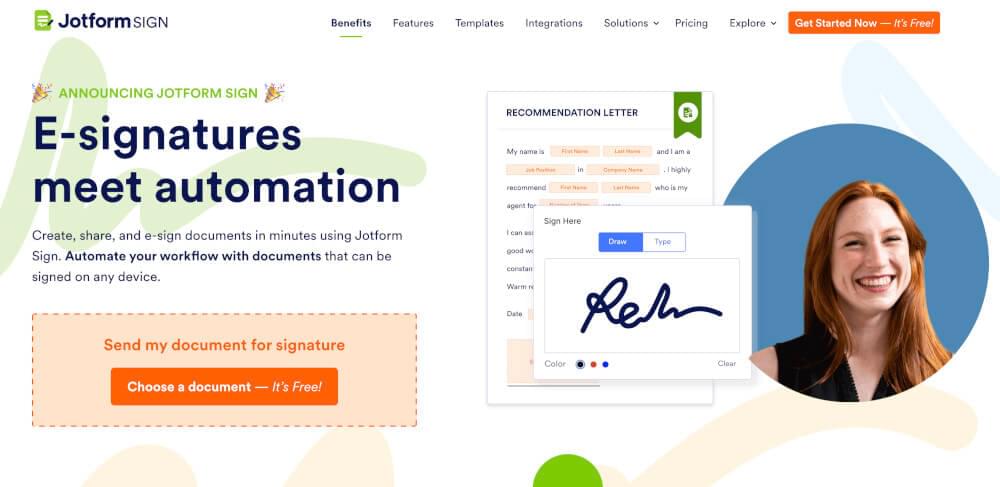 Jotform Sign isn't just an electronic signature platform; it's a digital marketing tool that revolutionizes the way businesses interact with customers.
Seamlessly integrating into marketing workflows, Jotform Sign empowers users to effortlessly collect electronic signatures, transforming leads into loyal customers. With an intuitive interface and customizable templates, it simplifies agreement processes, hand-offs, and workflows.
How Jotform Sign helps:
Embed forms and contracts into marketing emails, capturing prospects' attention and gaining higher response rates.
Maintain customer trust with Jotform Sign's robust security features that protect sensitive information throughout the digital signing process.
Price: Unlock the full potential of your marketing efforts with Jotform Sign. Plans start from free to $99/month, making it an accessible tool for businesses of all sizes, driving growth and maximizing returns in the dynamic digital landscape.
10. All in One SEO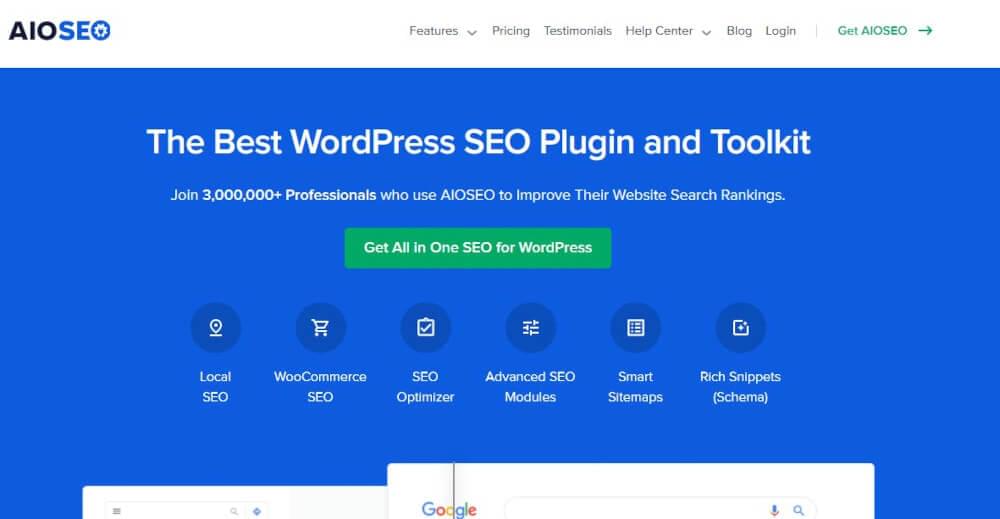 Digital marketing strategy is nothing without SEO. The tools for digital marketing prove to be handy and helpful to increase the pace and smooth execution of marketing strategy.
Some of the top-notch elements of the plugin include:
XML Sitemap support
Advanced Canonical URLs
Automated generation of META tags
Good compatibility with most other plugins
Automated notifies significant search engines, including Google and Bing, of any site changes.
Even though it has fascinating features, its WordPress plugins made it easier to use.
It doesn't take much to decide before kickstarting it. If you get confused over something, you can press "?" sign to get the help you want.
The All in One SEO Pack plugin has more than 1M active users. You don't have to go far to find competitors, and perhaps this is why millions of people praise this digital marketing tool.
Not only is it free and easy, but it's results are genuine and hard to ignore. This will help you improve your business perspective and make business decisions.
Price: From free to tiered price plans.
Check this out:
11 best wordpress audio player plugins of 2022
11. BuzzSumo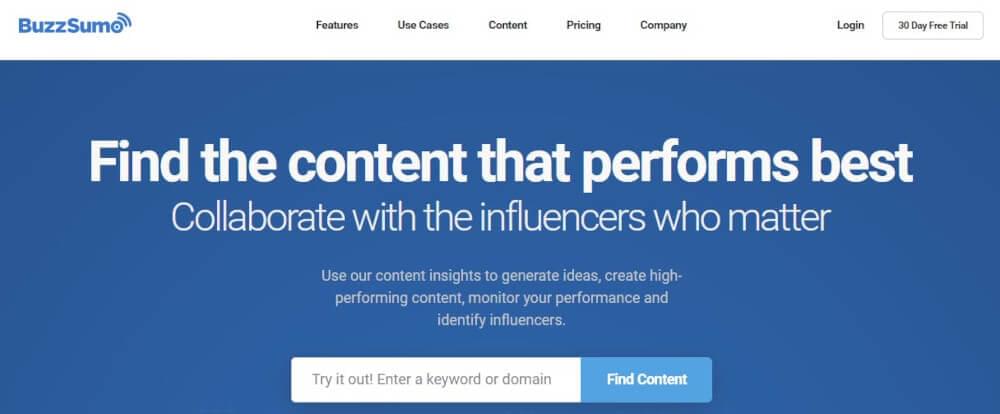 BuzzSumo is an excellent tool for people in business who need to learn more about the digital market.
BuzzSumo is a great option to explore more on competitors and in-depth data about market and user behavior. The accuracy of data can help you make better decisions for your business.
If you want to understand your competitor better or if you're going to learn what type of content achieves best with search engines and your users, you require no other tool but BuzzSumo.
Further, there is high-level information is achieved with each search result. The accuracy of data can come in handy proves helpful in creating blogs, video content, and podcasts.
Why keep assuming what can perform best in your niche? You can use BuzzSumo to get results with 100% accuracy.
These results can have the top results with approximately 20k social shares. You will know what to look for if you want to gain the same level of success.
Pricing: Free starter plan, paid plan starting at $99/month.
Over To You!
We have reviewed and explained some of the best digital marketing tools you can use to generate traffic, engage users, convert them in to loyal customers, and increase revenues for your business growth. Share your feedback and let us know how the above mentioned digital marketing tools has helped you.
Improve accessibility and drive user engagement with WebsiteVoice text-to-speech tool