text to speech
11 Best WordPress Audio Player Plugins of 2023
Dec 9, 202113 mins read
When it comes to making the correct business decision to adopt digital transformation, AI-powered and auto audio playing tools are real-time task achievers and cost savers. Podcasts are increasingly popular, musicians need more lucrative ways to showcase their talent,
accessibility standards mostly suggest audio content, so the visitors can make visit to your online stores or content audibly. Nevertheless, There are multitudes of reasons to have the best audio players running on your WordPress sites.
What Makes These WordPress Audio Player Plugins, The Best ?
Although you always have the option of choosing audio files from your media library. Even the native audio player of WordPress also performs the best job. But you need something more automated, fast, intelligent and robust audio player integrated into your websites. Therefore you can always choose to add more flair and advanced features with the integration of advanced audio tools.
Whether you are using for you online stores, podcasts, transcription and anything else, the best audio plugins of WordPress share some common features.
Plays on mobile devices and tablets
Supports any playlists
Allows file/track downloads
Full customization that goes well with your branding
On/off toggle
Smart analytics for each player
Widgets and short-codes
With all that for briefs, let's take a glimpse at one of the best audio player plugins for WordPress and see how they add up a flair to your business.
Top WordPress Audio Player Plugins You Can Use Today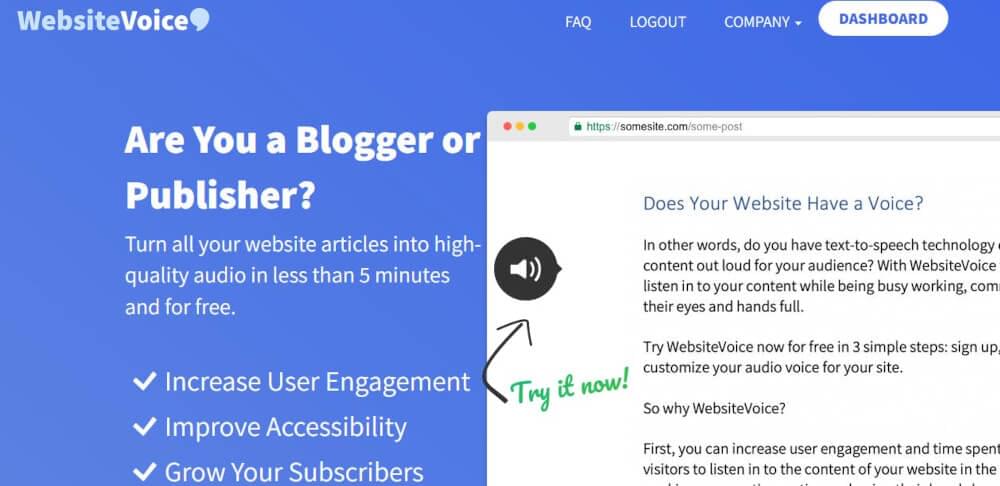 WebsiteVoice is our top pick for Audio Player Plugin of WordPress. This premium tool embeds seamlessly to your WordPress website or blog with a customizable play button (widget). The plugin helps you to convert the text to speech on your website, landing pages, checkout pages, and blog article page that enable users to listen to the content without spending time to read it fully by themselves.
The audio player widget can be customized to your branding needs, where you can choose any color, and select AI-based natural voice to read the text in almost any language with different accent. WebsiteVoice offers a 14-days free trial to get started and see the immense benefits you will get on your website engagement and revenue metrics. The plans are starting at $9/month.
One of the best ability of this tool is that you can download the MP3 file with the voice-over of the blog or website content to upload it as your own podcast, or on several other multimedia hosting platforms.
Key Features:
Customized audio player
Start, stop, pause feature
Easy to install and use
close to natural voice
Automatic text recognition
Multiple languages supported
Speed control to maintain the pitch
MP3 download
2. Fusebox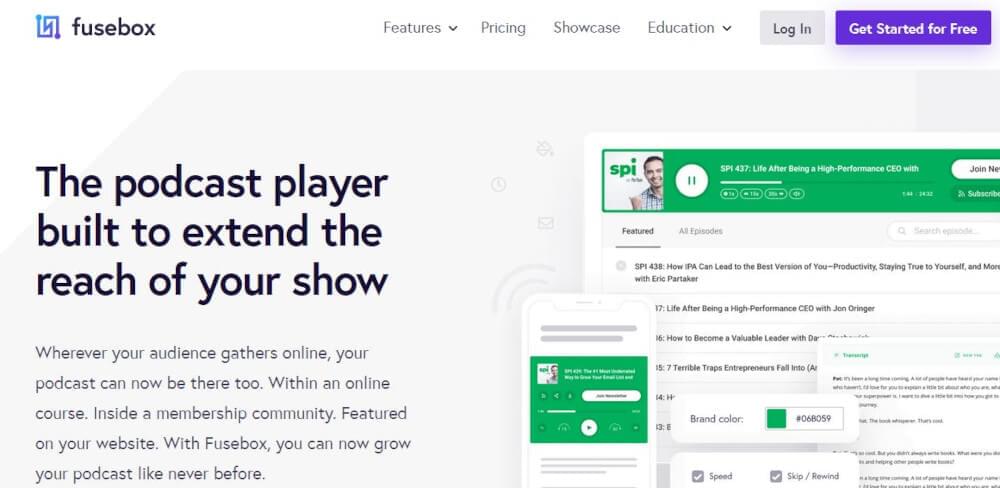 Previously known as the Smart Podcast Player, Fusebox is known to be one of the premium plugins for that market. Your audience will definitely enjoy using this Fusebox.
You can readily binge your entire library, and with the help of Smart Track Player it takes that exact functionality for a whole show and converts it into a single track. This way you can use it both for music or podcasts. It the best way out to get snippets for your users or download their emailing addresses to market you content later.
Its price starts at $15 per month. We must say you get a fantabulous features at this amount. End to end customizations of the audio player means that you have freedom to set all the buttons, colors and access to the audio archive. One of the most reliable features is the ability to set the listening speed, which is quite big feature for podcast users who binge a myriad of shows.
Key Features:
Free version support for 10,000 listens per month on 3 different shows
Mobile-friendly
Fast-loading
Easy to use
Simple choice for website owners
Visually unique and simple
3. Gutenberg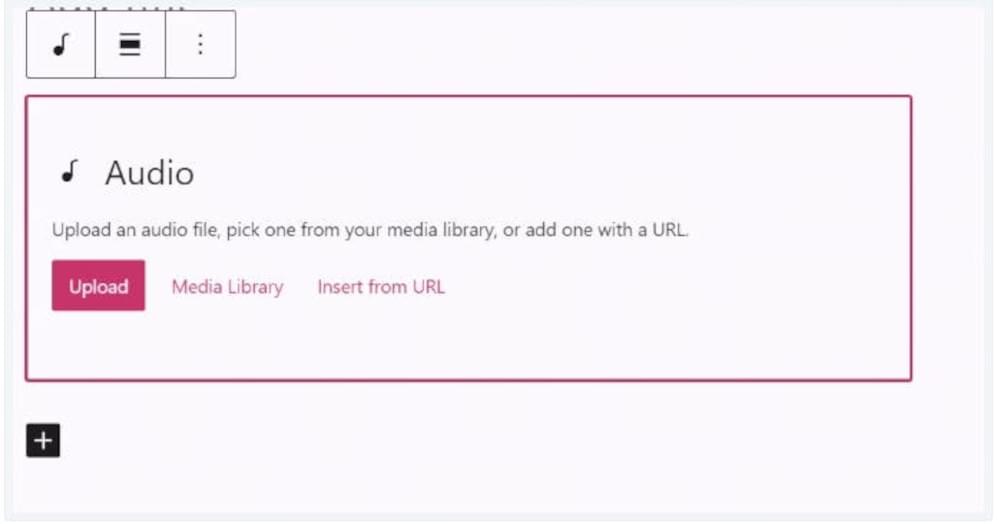 The default WordPress audio player has come very far over the decades, and the
Gutenberg audio block is the vigilant of that success. Although its is not one of most rich-feature payer in the market but if you get various customization features if you're using the WordPress block editor.
The premium advantage of using Gutenberg for smooth audio experience especially when you don't want any troubles and timely glitches. The advanced version of Gutenberg is available in widget to be integrated on your site. Hence using Gutenberg has become handy. Now adding files from your server has become seamless as you can embed from Spotify,
Soundcloud, Mixcloud, or any podcast feed.
Key Features:
Built into WordPress
Easily navigations within posts and pages
Embeds for external services
Plugins can stack up their own Gutenberg blocks for additional features
Basic settings such as auto-play, loop and preloading
4. Blubrry PowerPress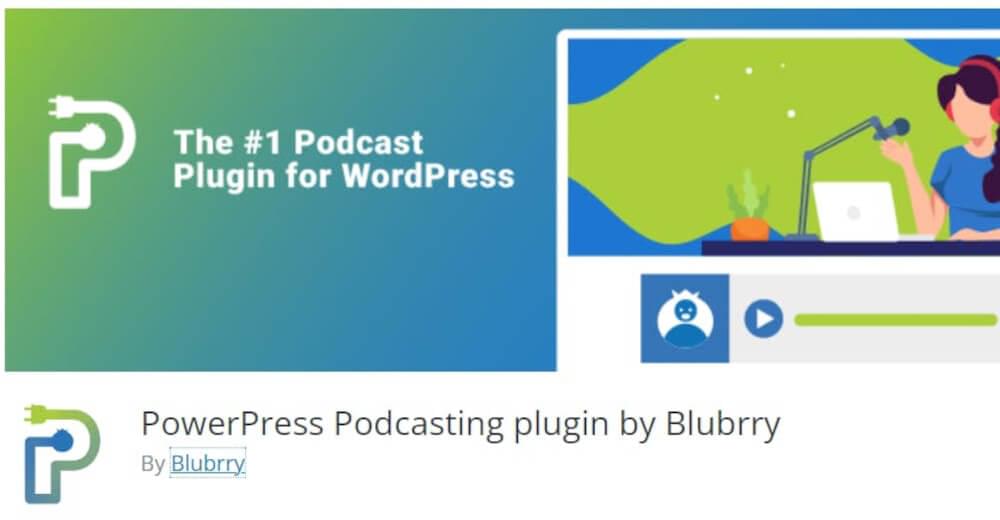 When it comes to free and user-friendly audio player, PowerPress is the best player to pick. And it doesn't stop here, it is getting better with ever passing day. Besides its being so popular for podcasts, it does great job as WordPress audio player plugin. Although its not as sleek and high-end choice as Fusebox, but PowerPress is scalable and more smooth with WordPress integration. If you want to offer good listening experience to people, just use PowerPress play.
Certainly, if you don't need a flash player for your site, PowerPress is a good option to pick for the fast loading and speed functionality. Otherwise, you can choose more advanced audio tools for more customization for your website.
Key Features:
Audio and video player
Astonishingly quick-loading and lightweight
Customized SEO features
5. Music Player for WooCommerce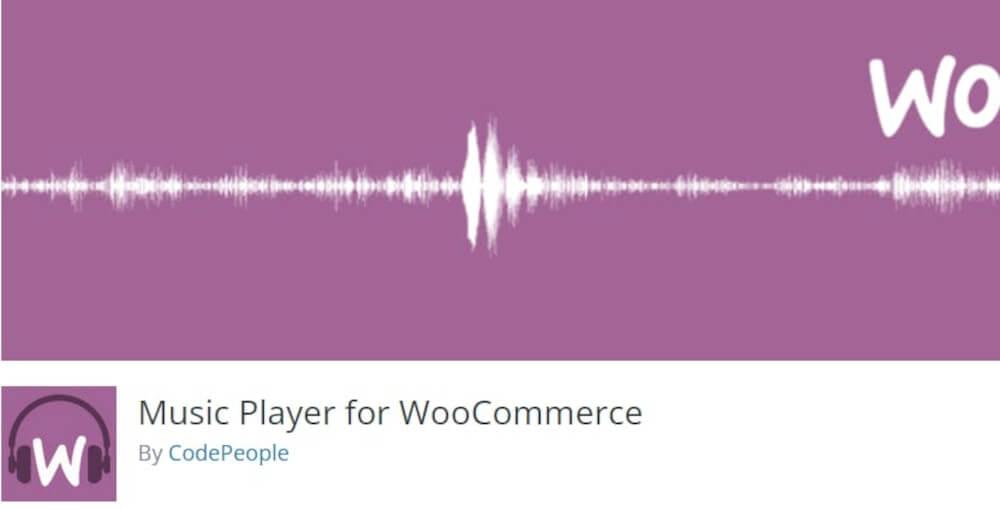 We all love free and quality music but when it comes to get paid for your talent. Well its another story for another time. People use this audio player to sell their music. its the best audio player that feeds the starving artists on their gigs.
Music Player for WooCommerce plugin automatically protects your audio. iTunes and other familiar audio players do the same method. The short code enables you with the flexibility of how you want to showcase your product. So instead f using the pricey tools, you can use the one that you already know with smooth functionality and less price.
Key Features:
Short-codes for embedding
Flexible customization via short-code
Playlist support
MP3, WMA, WAV, OGA file types
Sorting using WooCommerce product IDs
Preloading
Toggle for continual playing, even if the customers navigates away
6. MP3 Music Player by Sonaar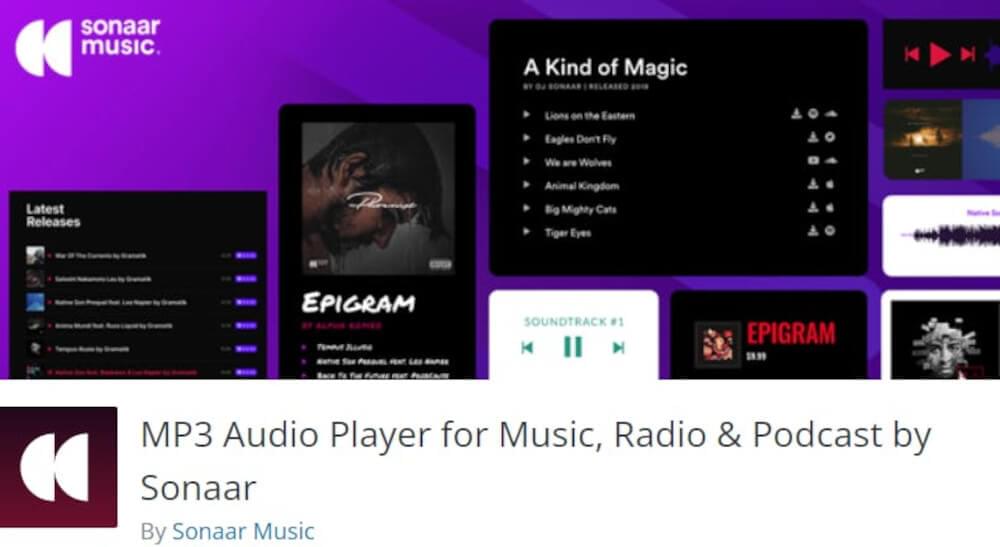 Mp3 Audio Player by Sonaar is one of the incredible WordPress audio player plugin. It comes with free customization and easy-to-make changes such as changing color pallets and other features according to your taste and needs. Form a single track listening podcasts and music, its a great listening experience coming from one audio player. Spruce up your content by adding smooth and crisp audio commentary to unique content, or you can add a waveform to add aesthetic listening pleasure.
Key Features:
Gutenberg block
Tracklist view
WooCommerce integration
Sticky footer player and waveform
Statistic reports and analytics
ACF support
Thumbnail image display
7. Seriously Simple Podcasting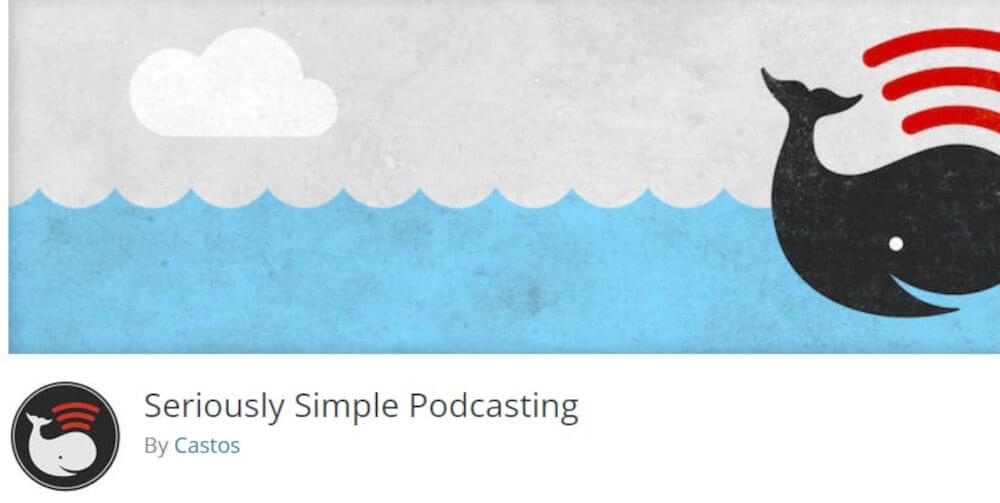 Empowered by Castos podcasting, the Seriously Simple Podcasting audio player is one of the fastest, seamless and frictionless players you can add up on your website. The intelligent audio plugin itself is platform-agnostic. It means you can use it independently without depending on the hosting services Castos offers. If you are a podcaster who is looking for the best podcast experience at less price, Seriously Simple Podcasting is the right choice for you.
Key Features:
Fully developed and designed by Castos
Manages any podcast feed, permitting you to showcase others' work
High-end customized display and distribution features
Works efficiently with any podcast host or media hosting site
8. Compact WP Audio Player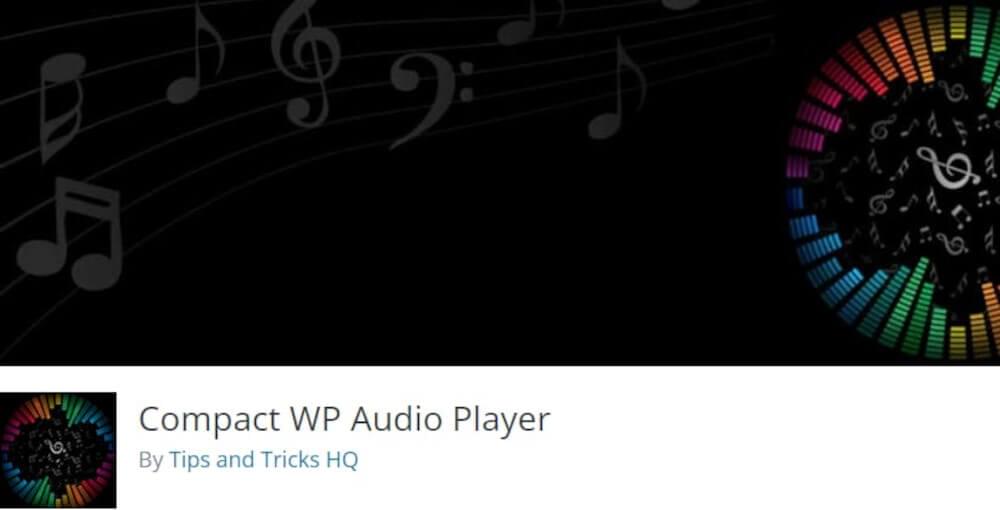 The Compact WP Audio Player is uncomplicated and effortless to use. If you don't know audio players' complex technicalities and just want to add a simple and easy-to-use audio player. The Compact WP Audio Player is for you. All you need to do is just add up a short code, and there you are, ready to go.
Key Features:
HTML5 player is fast and lightweight
Mobile compatible and plays on both iOS and Android
Short-code based for easy integration
MP3 and OGG file support
Autoplay toggle
Looping audio toggle
9. Sticky Audio Player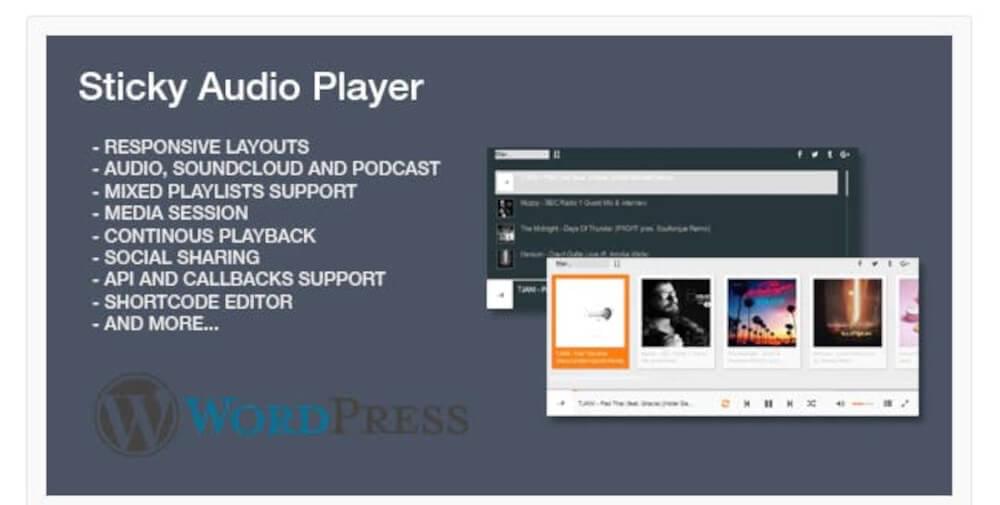 Paying $45 Codecanyon for this great pick for the audio player plugin is not a heck of an amount if you want something great and simple. It works smoothly, efficiently and makes your audio tasks easier for you. Pull your audios from anywhere, for instance, SoundCloud, different podcast hosts, self-hosted media servers, Google Drive and the list goes on.
Another incredible feature is the easy navigation through the website and multiple pages while listening to the content. It's an excellent feature to not let your users divert from the content.
Key Features:
CSS styling
Mobile responsiveness
Supports media library in WordPress, Dropbox, Amazon S3, and Google Drive
MP3 and WAV file support
Searchable playlists
Soundcloud embedding
Social media sharing
Mixed media playlists
10. ZoomSounds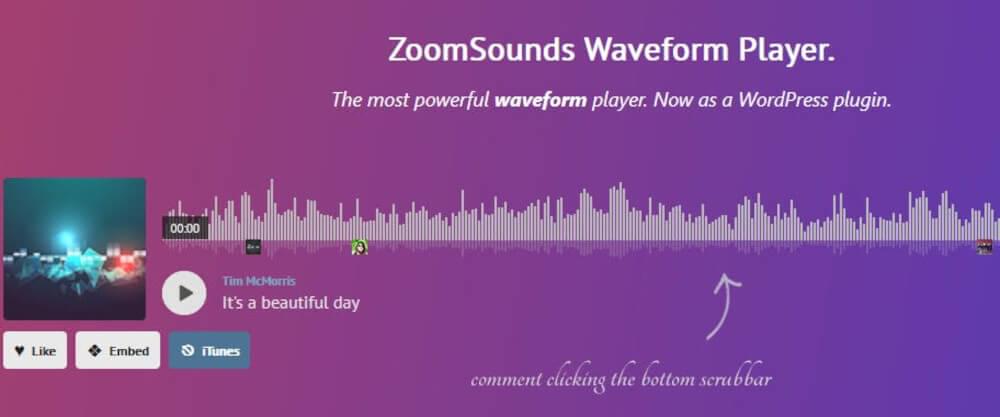 ZoomSounds is the best option if you want to replace your default WordPress audio player with some super-advanced features. It shares the similarity with SoundCloud audio player and it offers flexible options that you would find well-suited to your taste.
Key Features:
Mobile support is incredible
WooCommerce integration
Page-builder support
Built on HTML5
SASS for CSS styling
Displays text comments at certain timestamps
Designed to secure your files from unethical downloads
11. WavePlayer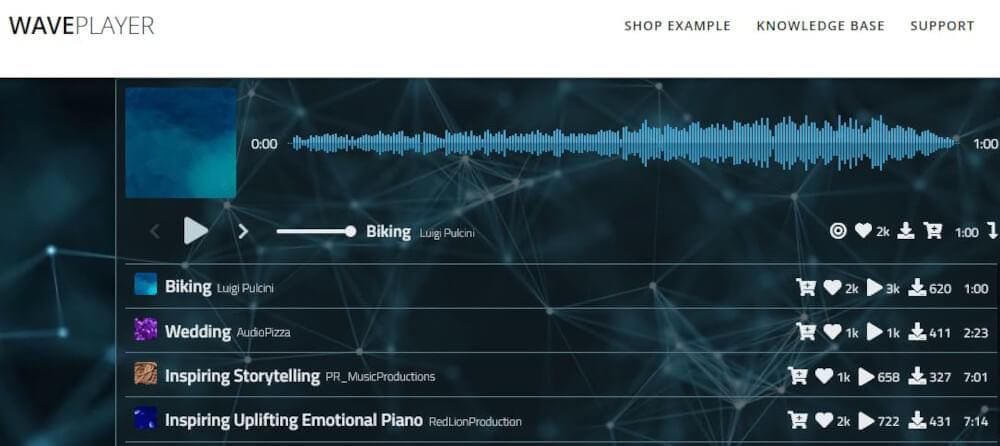 Let's see why WavePlayer is one the top-rated among WordPress audio player plugins. The answer is, its too good. It works well for all with easy, flexible, and bulky audio downloads, premium loading style, and high-end customization. It works efficiently with WooCommerce, integrated with product_id and product_url in the audio player plugin itself to navigate users to the relevant product page to buy. $26 is a worthy investment if you want to save yourself from being a hungry artist.
You would vast amount of options to tweak, and the player itself is gorgeous. The display is a colorful waveform of the audio to showcase track progress. Moreover, the c updates have included a dark mode for the dark mode lovers. It is well tested for its seamless accessibility.
Key Features:
1-click palette generation
Dark mode toggle
WooCommerce integration for track sales
Page builder support
Miscellaneous devices support
Well-responsive design
Lightweight and fast
Concluding for the Best WordPress Audio Player Plugin
Looking at these incredible options, you will have ample options to pick that are well-suited for your business needs depending on if you are podcaster or musician or for website ambiance. From a simple play button to a high-end customizable, dark-mode enabled,
Wordpress audio player, you can pick the right choice for your business.
Improve accessibility and drive user engagement with WebsiteVoice text-to-speech tool