text to speech
9 Best Speechelo Alternatives To Transform Website Text To Speech
Jan 28, 202214 mins read
Finding suitable text-to-speech software for your business and personal needs is tricky. You might try a bunch of tools prior to finding the best-fit application that can fulfill your needs. In this post, we will discuss some of the best Speechelo alternatives that can be used to transform the text into human-sounding audio.
What is Speechelo?
Speechelo is one of the well-known text-to-voice software that gained popularity just recently in the voice technology industry. It was first developed to assist visually impaired users as an assistive technology tool. But, now it is more often used in creating online marketing materials and resources.
The platform claims that its voices are human-sounding with more than 60 variations, and in 30 languages. It is a cloud-based tool that can be accessed online. It has the ability to choose between male and female voices and set the tone of speech. The Speechelo reviews have shown some pros and cons of the platform.
Being one of the favorite tools for content creators, video makers, and marketers, but still there are downsides to each platform.
Why Look For Speechelo Alternatives?
Although the software has several users, still many people look for some other software like Speechelo to generate a voice for their text. A few of those reasons include:
Not so user-friendly paid plans. Some users complained that there are hidden charges.
The voices available are not as human-sounding as they are supposed to be.
Limitation in languages and sound variations
No desktop application
No plugin or tool for website text to speech
There AI tool needs an improvement
Compatibility issues with some third-party tools
With that explained, let us now look at some of the best Speechelo alternatives that can be used to generate speech out of text in a better way, and with tools having better-paid plans.
Best Speechelo Alternatives You Can Use Today
Now we will have a brief look at the top Speechelo alternatives that are available in the market with added-on features and pricing plans.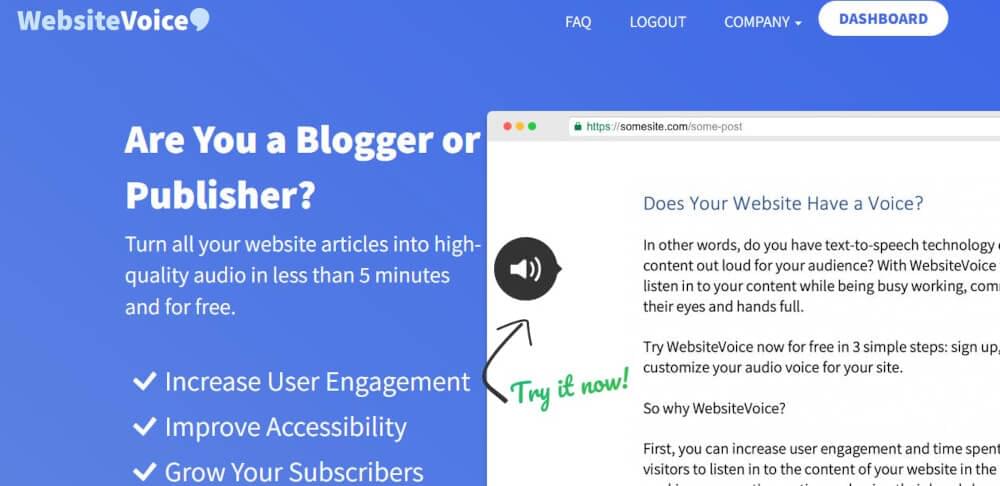 WebsiteVoice is the first in our list of best Speechelo alternatives roundup. WebsiteVoice is a top-notch Text-To-Speech tool for websites and blogs that can easily convert any text you have on your online resource to audio within seconds. The best thing about this tool is that it can embed seamlessly to any website, with any hosting, or CMS format, and it doesn't slow your loading speed.
Used by numerous users across the world, this tool turns the text to voice in more than 38 languages, and you get several variations of voices in each language. The voices are generated using AI-based technology to make them more natural.
To get started with WebsiteVoice text-to-speech tool, you will need to add a short script on your website, customize the player widget to match your website, and manage analytics from the control panel dashboard of WebsiteVoice.
Key Features:
Customizable audio widget
Audio analytics
MP3 downloads
Customer support
Change color and audio button style
Add custom pre and post text
Voice speed control UVT
Pricing:
You can get a full 14-days free trial of the platform without. No credit card required for using trial.
Starter plan: $9/month with custom player and audio analytics
Premium plan: $29/month with additional voices in library, accessibility, and ticket support
Professional plan: $49/month with MP3 downloads, speed control, and custom pre/post text
2. Amazon Polly

Amazon Polly is an Amazon AI (Artificial Intelligence) service to help turn text into speech using deep learning technology. It has a variety of male and female voices with 40+ variations in more than 28 languages.
This application is mainly used to create voice-enabled applications with the help of its tools and APIs. If you are looking to create apps that can talk, then Amazon Polly should be your next choice as a Speechelo alternative.
It is a part of the AWS service. The platform uses deep learning and machine learning to synthesize human-like voices.
Moreover, it offers Neural Text to Speech (NTTS) to improve voice quality. It gives the ability to speak in the news style with the newscaster use case. Also, this platform can be used to create custom voices for your business.
Key Features:
Real time audio streaming
Control and customize the output of speech
Distribute and store speech
Low cost per character converted
Different use cases
Adjust speaking style, audio pitch and loudness
Programming and platform language support
Speech synthesis
Simple to use API
Brand voice and custom lexicons
Pricing:
3. NaturalReader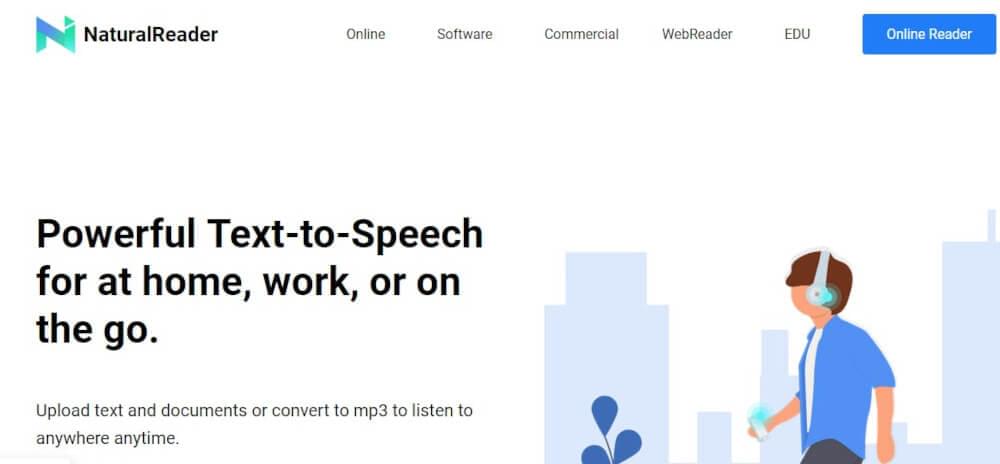 Third, on our list of best Speechelo alternatives is NaturalReader. It is well-known to convert text to audio for documents, and PDFs. Though, you can convert any text into speech using this tool at an economical cost.
It is a cloud-based app with a Google Chrome extension that can help in listening to the text from any website. NaturalReader is an easy-to-use tool, with many features that can help read and listen to the text at your own convenience.
Its user-friendly interface lets you adjust the voice, magnify text, download MP3, and convert documents to audio in just a few minutes. The tool used OCR technology to scan documents, and convert their text to speech.
Key Features:
Floating miniboard bar
Select the text and listen
Speed control
Male/female voices
Read emails
Read text files, Microsoft Word pages, and other documents
Read Adobe PDF files
Adjust reading speed
Change text font and size
Pricing:
Free plan
One time purchase (perpetual license) with added features
4. IBM Watson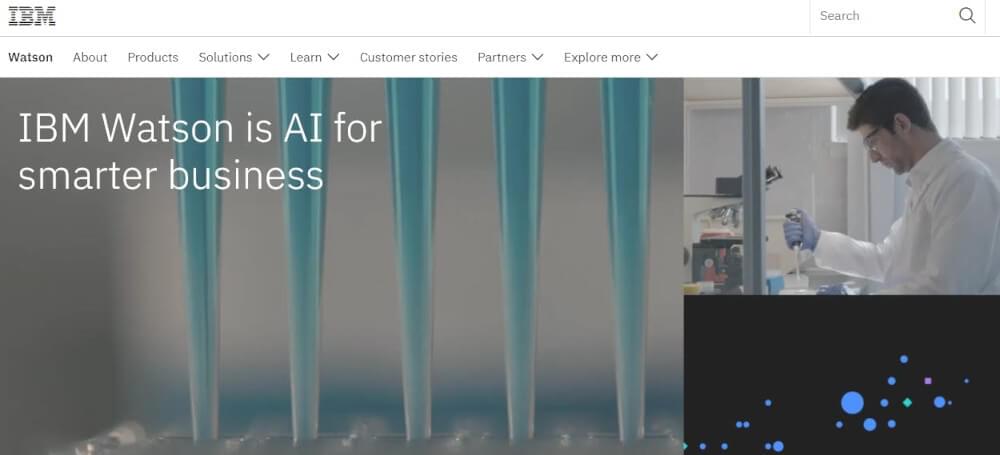 Next up in Speechelo alternatives is IBM Watson. Service of IBM Technologies that can help convert the text to speak intelligently. Using this text-to-speech solution you can create human-like voices from written text to help improve customer service and engagement in multiple languages.
The platform gives Rest API that can be used to create your resource text to speech using AI technology. This can be used with other amazing packages of IBM cloud.
IBM Watson's text narration can be used to develop applications that can intelligently speak with the users, including robotics, and content media.
Key Features:
Natural language understanding
Advertising conversations
Business intelligence
Visual modeling
Open source code
Pricing:
Free starting plan
Standard plan at $0.02 per thousand characters
Premium custom plan
5. Google Cloud Text-To-Speech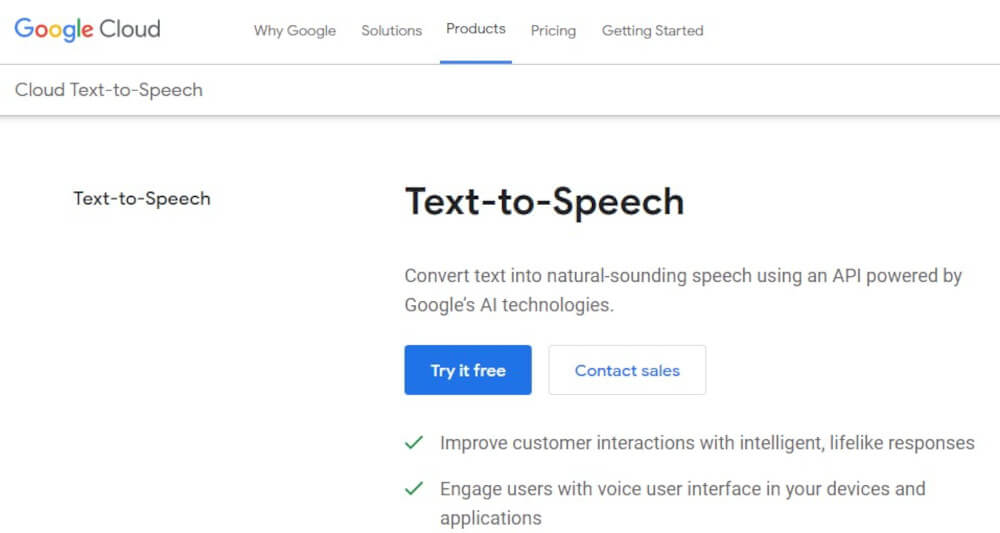 If you want to improve customer interaction, then Google Cloud TTS is the best Speechelo alternative for you. The Google Cloud Text To Speech is available in more than 100 voices and multiple languages.
It makes use of neural networks to generate a high-quality voice for your text. It is equipped with additional WaveNet voices to give quality user engagement for your applications, and software.
This tool is loved by developers while creating applications, especially, Android apps that use the Google Cloud TTS service. It can be implemented with the help of API, and Google has created good documentation for how to use its API.
Key Features:
Voice tuning
Speed and pitch setting
Custom voices
SSML and text support
DialogFlow virtual agent
Uses Speech to Text and Natural Language Processing to improve user experience
Accessible EPGs (Electronic Program Guides)
Volume gain control
Audio format flexibility
Pricing:
Free tier
Paid plan with Standard and WaveNet voice can be checked here
Check this out:
11 Best WordPress Audio Player Plugins of 2022
6. ReadSpeaker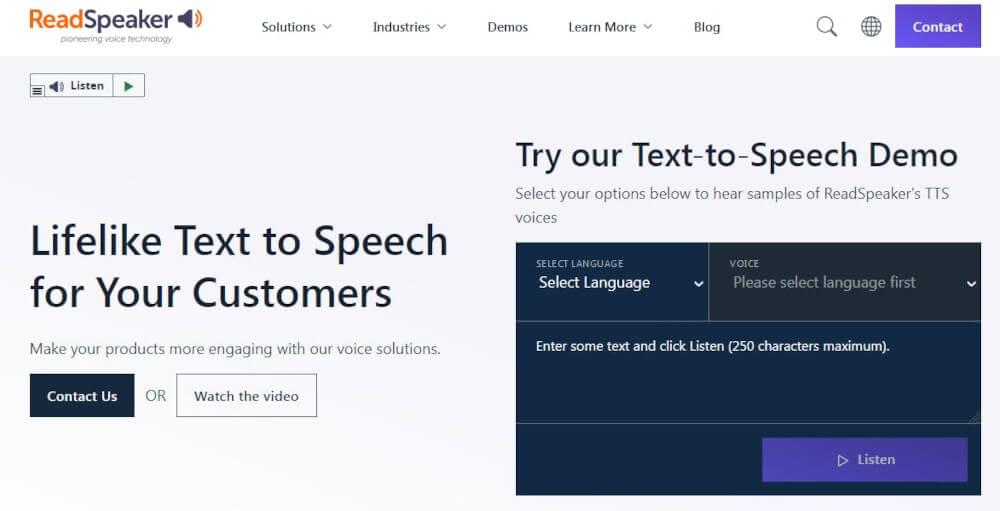 Another one among the best Speechelo alternatives is ReadSpeaker. The ReadSpeaker is a text-to-speech solution that can help you convert website text, document, and application text into human-like voice audios.
It makes use of Deep Neural Network (DNN) technology to detect voice and create synthetic voice quality to make an engaging conversational experience for users.
It can be embedded in websites, applications, servers and has desktop applications too. Used in several industries, it is one of the smartest tools for converting text to speech in the market.
Key Features:
API available
Document reader
Engine SDK available
Speech maker
Audio speed control
Page masking while reading
Zoom in and out the text
Download audio in multiple formats
Pricing:
Free trial
Custom paid plans
7. Descript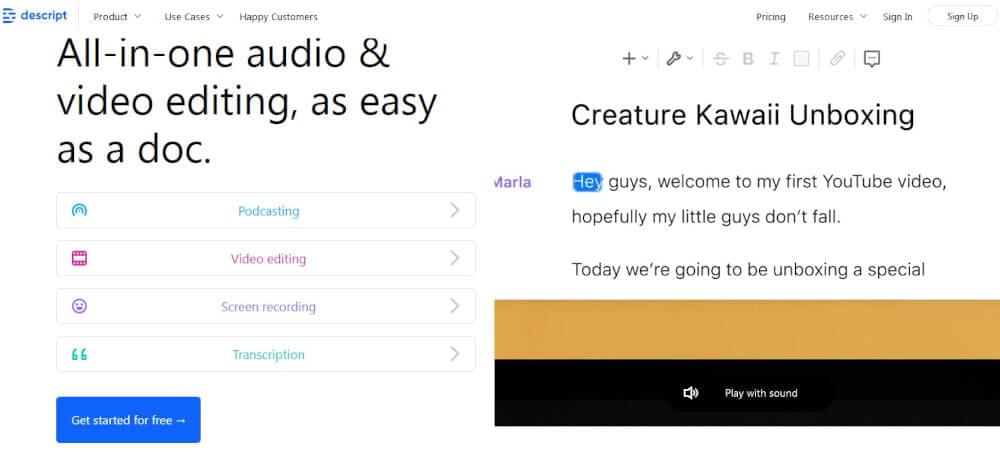 Descript is an audio and video editing solution that help content creators to develop resources with ease. The tool helps you to record, mix, master and collaborate on audio/video projects. It is a good Speechelo alternative with many other loaded features for content production.
The tool lets you create and edit files just like working on Google docs. The Descript's Overdub feature lets you create your own voice-over through text-to-speech model. It has a library of other voices that can be used for audio and video editing.
Key Features:
Own voice-over creator for text to speech
Automatic transcription
Podcasting
Webcam and screen recording
Video editing with animations, music, titles, and more
Pricing:
Free plan
Creator plan at $15/month
Pro plan at $30/month
Custom enterprise plan also available
8. Murf.ai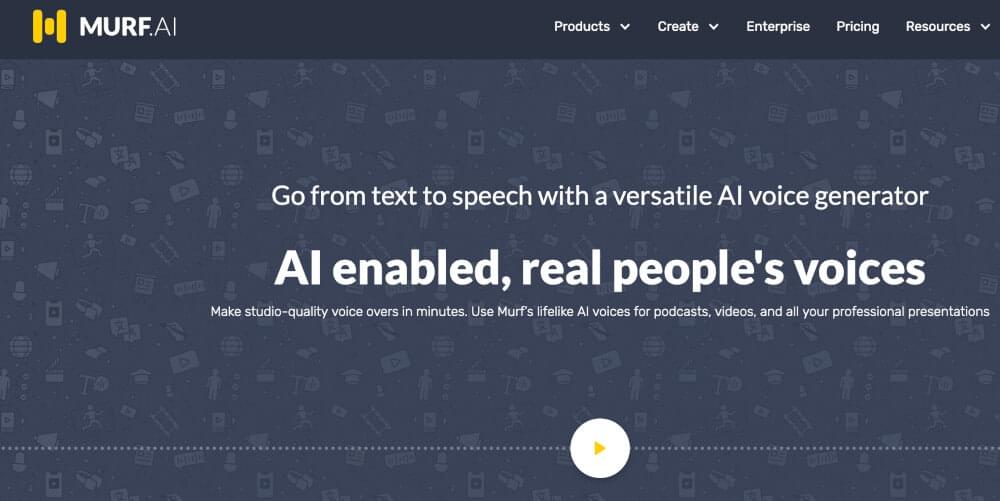 Murf.ai is an AI powered text-to-speech platform which enables users to create realistic, human-like audio for their videos and audio projects. The unique feature of Murf.ai is that it creates lifelike audio even when a machine is speaking, making it not just a Speechelo alternative but also a way to get professional quality audio with minimal effort.
It uses cutting edge AI algorithms to automatically add expression and timbre to the voice, creating natural sounding audio with no manual work required by the user other than selecting voices. Murf.ai is quickly becoming the go-to service for high-quality automated audio quickly and easily.
Key Features:
Vast AI-based library with more than 120 voices
Different languages are supported.
Enabled voice generation and audio transcripts
Share audio link with anyone
AI voice changer and collaborative workspace
Pricing:
Free plan for single user
Basic plan at $29/user per month
Pro plant at $39/user per month
Enterprise plan at $59/user per month
9. Microsoft Azure Text to Speech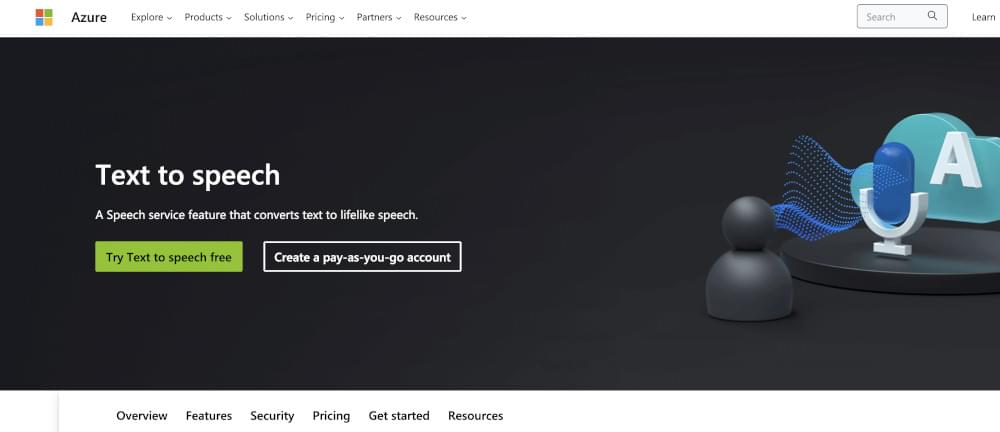 Next one on the list of the best Speechelo alternatives is Microsoft Azure. It is text to speech service for enterprises to build applications and provide services that speaks to the users with a human-life experience.
It offers text readers, and chatbot that talk to the website users helping in customer support. Azure offers advanced security to its customers, and conversational interface with realistic voice generator. The speech synthesis can be added to the applications with optimized cloud capabilities.
The TTS feature of Microsoft Azure can be easily deployed to the applications, and the packages are ideal for growing companies.
Key Features:
Text speaking voices that can be customized
Life like text to speech with voice including human emotions
Easy deployed on cloud, containers, and on-premise
Tune voices with rate, pronunciation, pauses and pitch
Intonation with SSML
Pricing:
Basic free plan available
Variable pricing with pay as you go model
Commitment tiers pricing
Find more pricing details here
Conclusion:
Text to Speech platforms like Speechelo has improved by a bigger margin these days. Now it's your turn, to test out the Speechelo alternatives and let us know which one suits the best for your specific use case. Feel free to share your feedback and let us know your thoughts about the text to speech software listed above.
Improve accessibility and drive user engagement with WebsiteVoice text-to-speech tool