voice technology tutorials
6 Tips On How To Use Audio Marketing In 2023
Feb 13, 202315 mins read
Over the last few years, audio content and experiences have become more popular. Thus, audio marketing is becoming increasingly popular among brands and marketers.
Studies by Facebook have shown that 80% of advertisers with voice-over or music led to better lower funnel results than those without. Undoubtedly, the increase in audio experiences results from the growing popularity of audio experiences. More people listen to various audio devices and content formats, including music, podcasts, and entertainment content in their commutes, daily activities, and leisure time.
Compared to visual and text-based content, audio is much easier to consume. The other reason for this is that it allows people to multitask at the same time. The search engine also provides them with faster results than typing a query. Marketers can boost their brand by incorporating six audio tips into their marketing strategies.
What is Audio Marketing?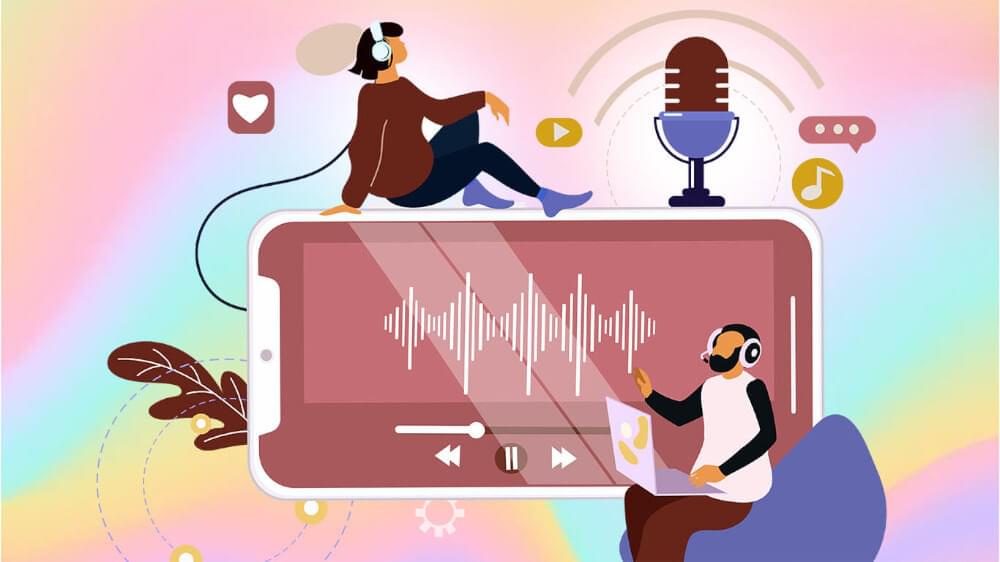 Marketing with social media is a powerful way to reach your target audience and promote your business, product, or service. Using sound to promote your brand is audio marketing. Audio marketing can be highly personal and interactive, which makes it different from other types of marketing. A video can also be a great way to connect emotionally with your audience.
Importance of Audio Marketing for Your Brand
Marketers might think of static visual ads like magazine spreads, billboards, or social media ads when they think of marketing. You can, however, strengthen your brand and increase sales in many other ways. You can do that by using sound. Sound marketing is more about connecting with customers emotionally through tones, ambient sounds, and music than it is about the spoken word. According to a study in 2022, there was a sharp increase of 13% in online audio listeners either through online radio stations, podcasts, etc. every year from 2020 for the age of 35 and above were the primary listeners.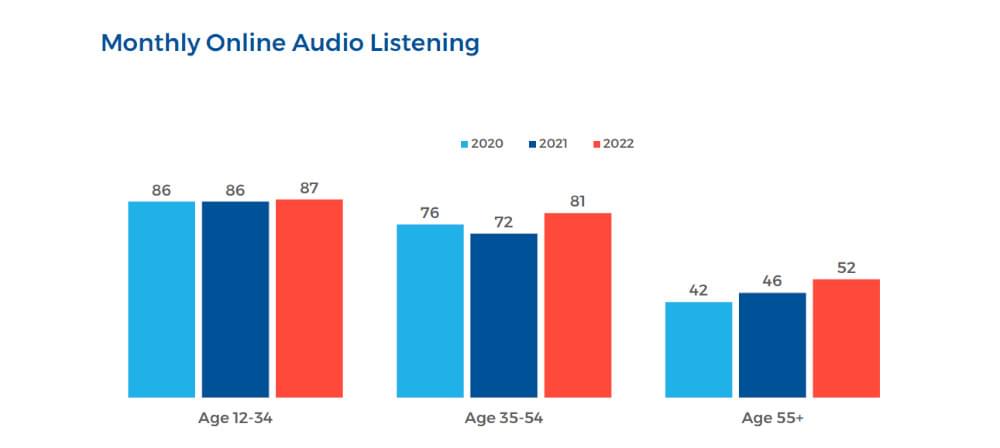 You can use sound to promote your brand, drive sales, and connect with your customers. Humans are capable of hearing and understanding sounds within 0.146 seconds. The sound makes it possible to connect directly with a customer's emotions, increasing brand recognition for your company. Sonic branding company Man Made Music estimates that music can increase brand favorability by 46%.
You can increase sales by using sound. Audio is essential for marketing and sales because it relates to your brand. It is possible to use sound in a physical setting to influence customers. Sound and volume can significantly impact how long customers spend at a business.
6 Best Tips: How to Use Audio for Marketing?
The following six audio marketing tips will help you build your brand and business strategy using audio marketing:
1. Podcast Your Blogs
Repurposing or converting your existing blog posts is the easiest way to create audio content. A variety of methods are available for converting your blog posts to Audio. Adding an introduction, quotes, and sound effects can make your blog posts into podcasts of varying lengths.
An excellent way to make your blogs into audio would be to read the text as it is, similar to how National Public Radio (NPR) does with their news stories.
2. Build Your Own Branded Podcasts
In recent years, podcasts and webinars have become increasingly popular. The Coronavirus pandemic further boosted content delivery methods based on these protocols. In 2020, podcast awareness may grow from 212 million to 252 million, up from 122 million in 2010. Furthermore, 104 million monthly listeners in 2020 compared to 34 million 10 years ago. It may reach 150 million people within three years. The amount spent on podcast ad spending for 2022 is $354 million.
Marketers can create and deliver branded audio content by leveraging the podcasting trend. As a result, it allows people to understand better who you are. McDonald's offers 'The Sauce Opens' a new window (company podcast), Johnson & Johnson offers 'Innovation Opens' a new window (company podcast), and GE offers 'The Message Opens' a new window (company podcast).
Planning and organization are necessary for creating a branded podcast. Organizing your podcast's topics and planning its distribution is easier with an editorial calendar. It is essential to approach podcast creation and distribution similarly to blogging and social media marketing.
3. Be a Guest Speaker or Sponsor a Podcast
The challenge of creating a podcast or vlog isn't the end of the world. You can find opportunities to become a guest speaker on blogs or podcasts that are already popular.
Your audience will become loyal to you if you become a regular guest speaker on these audio shows and podcasts. As an alternative, consider sponsoring a few episodes of an audio show or podcast as part of your campaign. Considering these factors before advertising or sponsoring a podcast is a good idea.
Start by finding a podcast that fits your brand. The audience of different podcasts varies. The second step is to understand the types and costs of ads. Measuring ROI will also help you understand how effective your ads are. You will also be able to identify which podcasts warrant more spending if you advertise on multiple podcasts. Check out the best tools to help make podcast.
4. Use Social Media Platforms to Stream Live Audio
Podcasting is one of many ways to stream Audio on social media; live streaming is possible on several other platforms. Facebook launched its Live Audio tool in 2016. According to Facebook, the platform will allow publishers to tell their stories only through words. Twitter allows live audio-only broadcasts through its Periscope platform.
Riffr, Listen, HearMeOut, and AudList is lesser-known audio-focused social networks besides Facebook and Twitter. Aside from recording, uploading, and posting audio clips, you can connect with people on Riffr. It also helps you interact with others who create audio content. With AudList, you can create long and short audio pieces for free.
5. Utilize Advanced Voice Technology For Content Delivery
Apple's Siri makes voice search increasingly popular. Voice assistants like Amazon Echo, Cortana, and Google Home further boosted the trend. With 76 million smart speaker owners in the United States, Amazon has led the way in ownership.
Voice-activated devices, such as smart thermostats and cars, have increased. The number of voice searches online will increase to 50% by 2023, according to comScore. This offers marketers an excellent opportunity to stay on top of their consumers' minds.
Make your content voice search-friendly to capitalize on this trend. Search engine optimization works the same way. Avoid keywords and target search phrases instead. You can also create audio snippets that explain the search query in a few words.
6. Prepare Long-And-Short Form Audiograms
You can use audiograms to explain or promote something. Depending on the length, these can be short clips or longer recordings. You don't have to pay for them, unlike advertisements. Call-to-actions are not necessary either.
A short audiogram is a snippet of audio overlaid on an image. You can share them on Facebook, Instagram, and Twitter. When explaining an image or infographic, a short snippet is ideal. Depending on your needs, you can also use longer audiograms.
Social media platforms like WNYC, the public radio station, have been posting audiograms from brands and organizations.
Benefits of Audio Marketing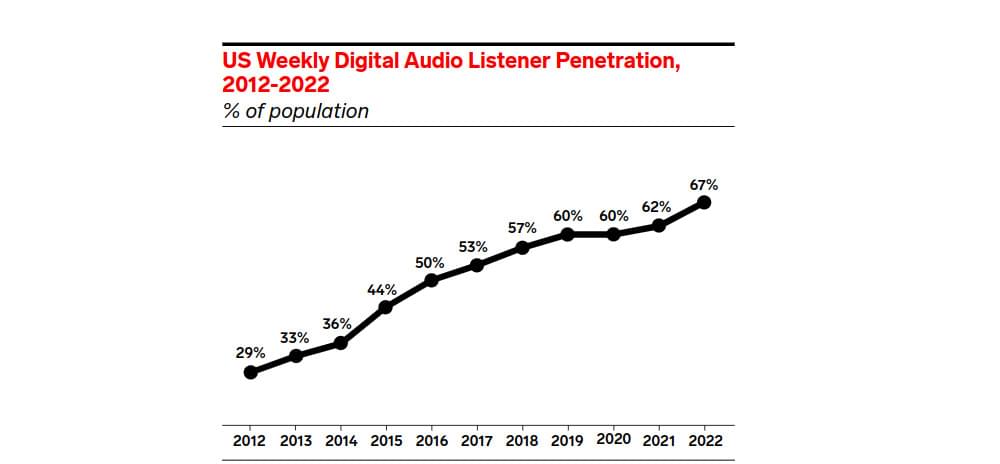 Including audio advertising in your audio marketing strategy has a variety of benefits. Audio ads can help brands target audiences at different times of the day by reaching them where they are by providing ad-supported premium content at different points in their day when at least 41% of US households have one smart speaker.
In the US, the average age of audio listeners is 12+, and they use any device to listen to audio content; their weekly listening total was 192 million in 2022, and that includes listening to AM/FM radio stations digitally, as well as streaming audio content available only online.
In addition, audio ads can help engage audiences in new ways by reaching them in different contexts, such as during screen-less moments with technology or within interactive content.
1. Engage Large Audience
Over 78% of American adults listen to Audio daily, whether it's music, radio, podcasts, or other Audio formats. With voice marketing campaigns, businesses can reach a large audience. Get to know your target audience on a personal level.
It is a very interactive and personal form of marketing. Marketing through this form can be an effective means of connecting with your target audience at a deeper level than other forms of marketing.
2. Boost Brand Awareness
It is an excellent way for businesses to increase brand recognition through audio content. You'll find that people will begin to recognize your brand and what it stands for as soon as they hear your audio content.
3. Drive Traffic to Your Website
You can drive traffic back to your website by including links to it in your audio content, which you can then use to link back to it. You can increase your business's conversions and leads by doing this.
4. Increase Sales and Generate New Leads
Your business can benefit significantly from audio advertising as it can generate new leads and sales for your company. Someone who hears your audio ad and then visits your website will purchase as a result of hearing it.
It could be possible for consumers to find the products they regularly need if they hear relevant advertisements while listening to music or news streams containing ads.
5. A Growing Number of Screen-less Moments
Accordion to a 2021 Edison Infinite Dial report, smart speaker ownership will grow 50% year-over-year in 2021. The same report found that every American household has 2.3 smart speakers. That's a lot.
Sound Selection Factors to Consider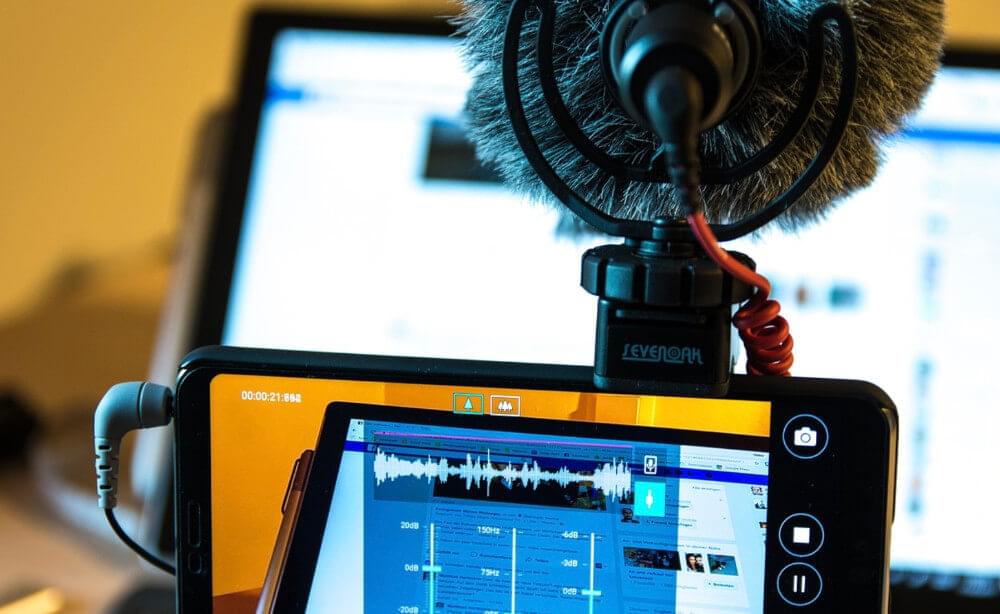 Whether it's a big or small business, marketing company, or corner grocery store, they can use sound to cement their brand in a specific industry while setting them apart from their competitors through sound. When choosing sound for your brand, you should consider the following factors:
1. Select Impressive and Memorable Sounds
Using sound can help you stand out from the competition. You should "play something different" to your competitor in a competitive environment. It's essential to play something thoughtfully geared toward two things: differentiation.
Hence, you sound different from everyone else, but playing something ideally in sync with what people want to experience is even more important.
2. Select Sounds Relevant to Your Business
It is possible to reflect your company's culture and values through the audio experience. You should be able to tell a new story about your company that complements your brand.
3. Choosing the Right Pace is Crucial
Your store's feel and customers' buying habits can also be significantly affected by the beat and pace of the music you play. A slow, mundane soundtrack in some supermarkets subconsciously slows down customers, so they consume more products by spending more time looking around.
4. Keep Your Audience in Mind
When implementing sound into your business, it is also important to consider who your target audience is and in what context they are interacting with your product or service. You should know your audience, their likes, and dislikes, and how you can incorporate sound into that.
Understand how customers will interact with your product in the context they'll be using it. For example, there may not be a desire to play heavy metal music in a quaint bookstore. Using sound effectively is one of the most important aspects since getting it wrong could turn off a customer for good.
Check this out: History of Audio Storytelling: From Radio to Podcasts
Summary
There's never been a more opportune time to take advantage of audio marketing, with podcast listeners in the US expected to reach 160 million by 2023. We hope that today's article will give you the confidence you need to have the courage to implement the power of audio marketing for your business if you are ready to do so.
Boosting your brand with audio marketing is possible in several ways. The first step is determining your marketing goals and your brand's voice. In addition, you should determine the type of audio content your target audience consumes and the type of devices they typically use. Is it common for them to listen to podcasts? What kind of technology do they use in their homes? Before choosing an audio format for your brand strategy, make sure you have considered these aspects.
Your business can benefit from the WebsiteVoice platform if you need to market your brand via Audio. A text-to-speech solution for bloggers and web content creators allows their audiences to listen to their content through their smartphones or tablets to increase engagement, accessibility, and growth in subscribers.
Improve accessibility and drive user engagement with WebsiteVoice text-to-speech tool