text to speech tutorials
Text to Speech and Branding: How Voice Technology Enhance your Brand?
Jul 30, 202211 mins read
An ode to voice technology: more enhanced workflow, multitasking, accessibility, and improved learning skills.
For people suffering from visual impairments and other conditions like dyslexia and other screen reading difficulties — text-to-speech is very beneficial. It's a great help to excited learners who wants to learn foreign languages and look forward to overcoming hurdles in understanding and speaking a language other than native. In short, voice technology is transforming the ways of content consumption and business promotion.
Use text-to-speech technology to enhance your brand's voice to get distinctive recognition, more engagement, and a low churn rate. Intermingling text-to-speech and branding is one of the practical ways to strengthen your business image. Your users may often prefer to listen to the business message while taking care of other tasks.
Reading this blog will help you with how text to speech and branding can help you to enhance your brand voice and tone.
What are text-to-speech and branding?
Text-to-speech software is AI-powered based tool that converts written text into the most human-like audio voice. Most tools like WebsiteVoice support the growth of text-to-speech usage by sounding more human and less machine-like. One of the advanced features of these tools is an audio translation into almost all famous languages with the assurance of 99% guarantee with the correct intonation, pitch, and clarity so the audience on the other end can understand it easily.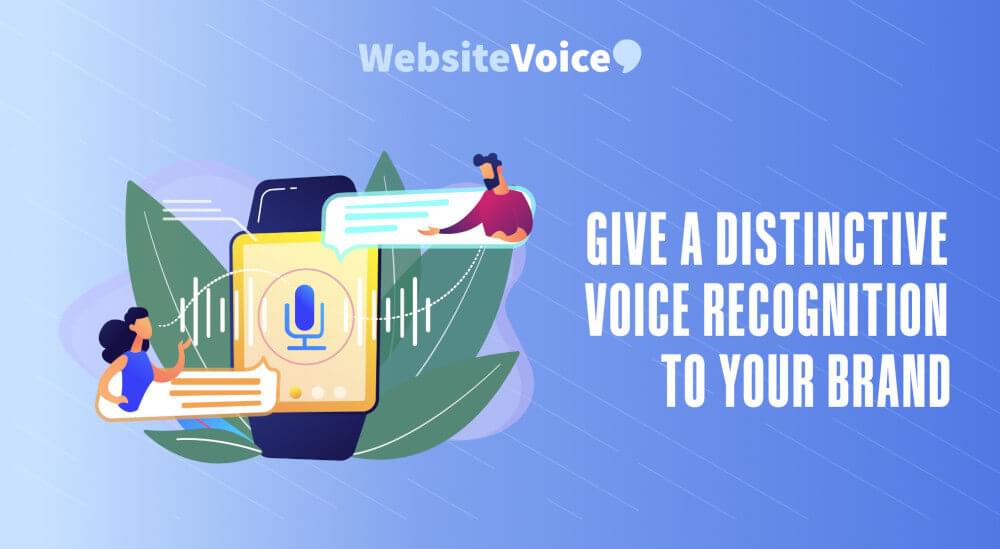 Audio to text has been gaining momentum since its inception—offering high-quality voice service, economical ways to automate tasks, and contributing greatly to providing a unique user experience.
Voice technology is the next big hit in branding, marketing, content creation, business digitization, and much more. As a result, more businesses are looking into using it to engage target audiences and retain customers. There is a growing tendency among firms to choose a conversational-first strategy. It is the same as going with mobile-first strategies in past years.
Here are some of the multiple benefits of a text-to-speech tool to enhance your brand.
Converts all texts into human-like voices with the help of a powerful voice API.
Supports you in building lifelike responses and encourages user retention.
Communicates your brand message quickly to large audiences, especially people with learning disabilities, visual impairments, or literacy challenges.
Builds a robust multi-lingual support system and encourages personalization. Text to Speech (TTS) allows you to accelerate intelligent conversations by communicating with users in their selected native language.
Why is text-to-speech important when it comes to enhancing your brand?
It has become essential for brands to adapt to customers' changing desires to stand out from the crowd. With ultra-advanced technology, people want rapid results and higher expectations from brands.
66% of customers await brand companies to understand their unique needs.
74% of customers say they want to purchase from a brand based on personal/professional experience alone—Brand voice helps to gain a unique experience.
77% of consumers think a strong brand-customer experience is as important as its products or services—brand tone plays an influential role in lasting impressions.
44.5% of business entities globally agree that user experience is a significant competitive differentiator—the more unique the brand voice is, the more it is easier for users to choose what is best for them.
91% of customers acknowledge that they are more likely to make another purchase after a great service experience—text-to-speech and branding help them gain easier access to help all necessary information to make a final buying decision.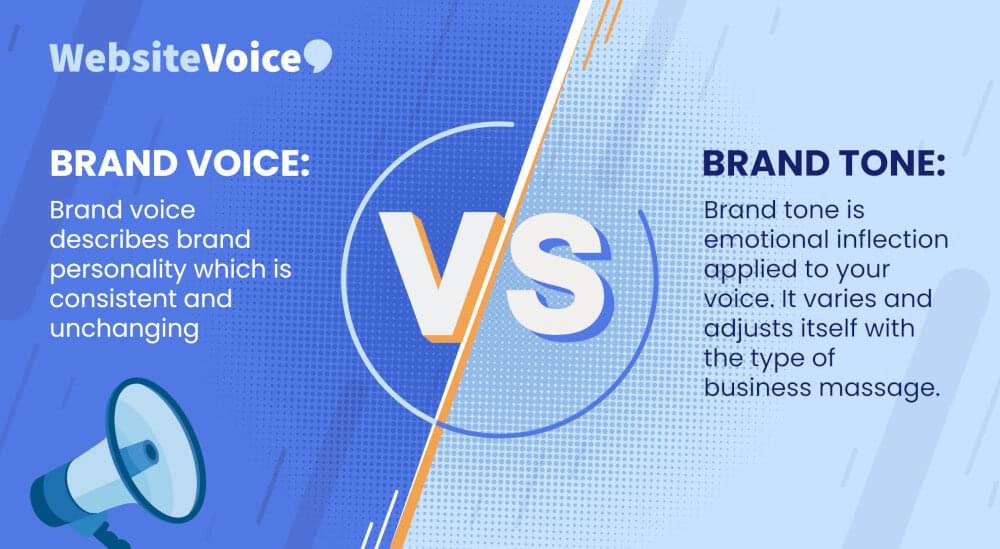 The power of audio content on the overall voice of your brand
When choosing to convert all text placed on your digital platforms, choosing a voice that suits your brand personality is very important.
Like visual branding collateral, a brand's voice must be instantly noticeable, appealing, meaningful, and consistent across all platforms.
It's beyond the shadow of a doubt that audio content has a significant impact on marketing endeavors and branding strategies.
Businesses can humanize their brand outlook by continuously adopting brand voice across all consumer touchpoints. When users hear the same voice, they are more likely to trust it.
While providing an audience with voice-enabled capabilities is essential, digital marketers must also ensure that they establish a customized text-to-speech voice that resonates with their business personality.
To do so, brands must be aware of both their audience's interests and their own brand persona. This could lead to the creation of many voices for diverse audiences — especially for major, global businesses.
Having a voice for multiple divisions, products, or geographical regions may be crucial for some of the world's largest companies to speak to a wide range of consumers.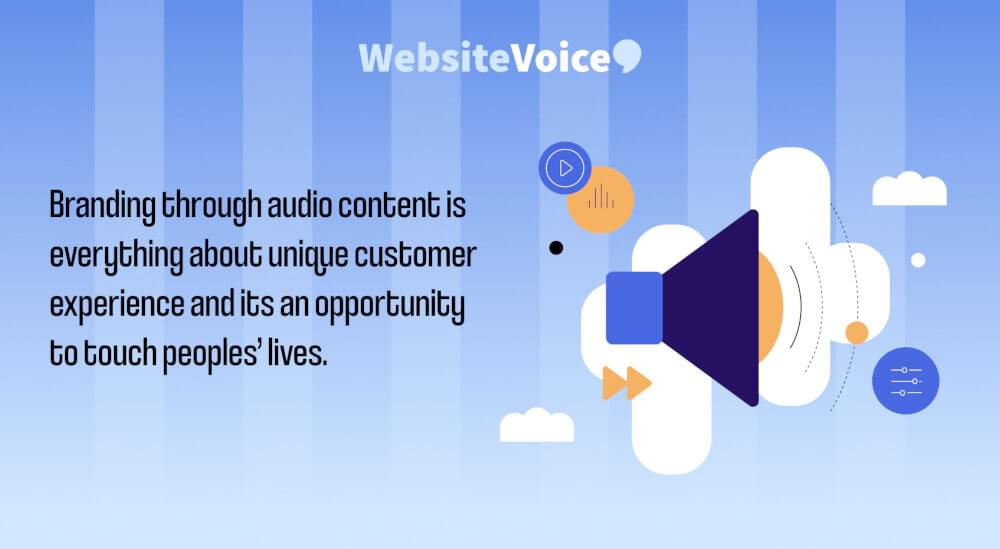 How text to speech can enhance your Brand?
Choosing the right voice for your content also means it matches your audience's interest, especially for the businesses that deal globally and with a diverse audience. Audio tools offer translations into multiple languages according to geographical regions. You can choose accents and voices that best suit different audio translations.
1. Boost understanding of your message
After witnessing the success rate of businesses through voice technology, it is essential to implement voice technology to enhance your brand and strengthen your brand tone.
With billions of businesses marketing their products online, it is almost impossible to get your audience to hear your business message. Text to speech is easier to generate maximum output and strengthen the existing infrastructure. Audio content helps you get a unique brand identity, more comprehension level to level, and retention of information.
Audio content helps you connect and get involved with your audience more deeply. It can help you build an emotional connection and grab attention more efficiently and faster. Regarding budget, it saves you costs from multiple perspectives, such as automation of managerial tasks, automated translation facility, and bulk text conversion into audio in a few minutes, and much more.
2. Create an original voice for your brand
Text-to-speech establishes a distinct voice for your brand that can be a stronger and more noticeable presence in the ears of your listeners.
Having a distinct voice for a brand can convey so much to viewers. Adding more to sounding smooth and sleek, a proper rhythm and intonation can enhance user experience and brand tone. It contains distinct variations and inflections on syllables, phonemes, and words. WebsiteVoice is highly customizable, and its speech can be further enhanced and customized by adding features like:
Translations into different languages
Pauses
Date
Time
Numbers
Acronym pronunciation
Any other pronunciation-specific instructions.
A great online audio tool always leaves memorable experiences. An influential voice tells a lot about your brand.
Our brains retain information more meaningfully when we listen. Our brain forms inflections and intonations with the speaker's voice and develops form, structure, and sound.
Day by day, with innovations in voice technology, we are able to enjoy the perks which seem to be unreal, such as equal accessibility of information to everyone and a pleasant listening experience to your favorite content.
3. Accessibility to visually impaired and illiterate people—more leverage to enhance your brand
According to a WHO report, 2.2 billion people suffer from visual impairments. And around 775 million people worldwide have limited literacy skills— struggle to comprehend, evaluate, use, or engage with written content.
Audio content overcomes these roadblocks and offers a world of opportunity for disabled people. The speech tools offer a more inclusive environment to these people and make the learning and information acquiring process more smooth and more efficient.
Audio content abridges the distance between people facing difficulties in understanding from the screen, and listening to content can help them learn fast.
Audio content gives more leverage to businesses to reach everyone out and not leave anyone behind. Voice is the identity of all the information placed on your landing pages, blogs, videos, and podcasts.
We live in a world where people expect fast results, and multitasking is a habit. Therefore, accessibility to the information while doing other tasks is unavoidable. You cannot take the risk of producing text-based content only.
Going along with the change in content creation with more focus to help your audience with a more incredible experience.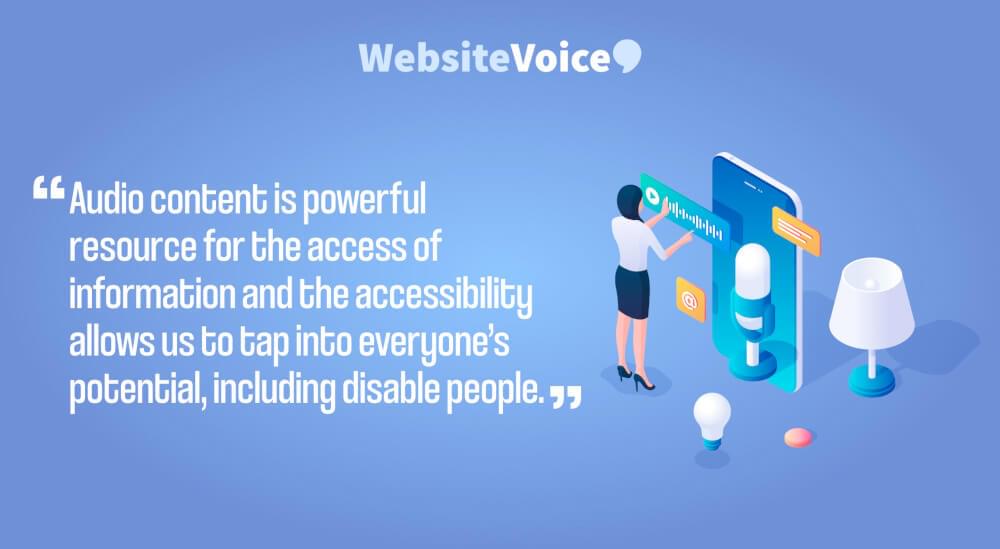 Final thoughts
In a world where we want things to happen fast—we need our products to produce results fast. Therefore, we must make the best business decisions quickly to make everything perfect. Voice technology has been offering serious help to businesses with AI-based and automation features helping in almost all fields of operational tasks.
Text to speech and branding are coming together to take businesses to the next level—more importantly, to make user experiences memorable by fulfilling their desires, resolving their problems timely, and offering them timeless value.
Content creation and branding are two evergoing things for businesses to thrive continuously. Content creation was never easy as modern technology is making it so. Therefore, it's not so wrong to take maximum benefits out of it. To relieve yourself from the modern problems, embrace the change and perks voice technology can offer your business.
Improve accessibility and drive user engagement with WebsiteVoice text-to-speech tool