text to speech tutorials
11 Best Text To Speech Online Software For 2023
Mar 22, 202319 mins read
Are you trying to stay ahead of the technological curve in this year? Keep your businesses relevant and competitive with the best text-to-speech online software. Text-to-speech software has become increasingly popular for its ease of use, high accuracy rate, large library of voices and its ability to create personalized content quickly and efficiently.
Additionally, many businesses are recognizing that text-to-speech can act as a force multiplier when it comes to customer engagement and brand awareness efforts. In this blog post, we'll explore the top options on the market so you can make an informed decision on which text-to-speech solution is right for you.
What is online text-to-speech software?
Text to Speech Online Software is a revolutionary technology that enable computers to convert written text into audio speech. By leveraging speech synthesis and natural language processing, this software is able to recognize words and sounds and then process them into a spoken output.
Text-to-speech can be used for various applications such as creating podcasts, eBooks, digital talking books and computer-aided learning tools. It also has tremendous potential for assisting the visually impaired by allowing them to listen to written text in place of reading it.
This type of technology allows users to easily access the written word in an audible form for language learning, auditory comprehension, and other applications where listening is beneficial. Text To Speech Online Software is becoming increasingly popular due to its versatility, accuracy, and convenience.
Text-to-Speech software has been made accessible to many different types of devices such as computers, smart phones and tablets, making it easier than ever before for users everywhere to utilize this innovative technology.
Read on to find out why choosing a comprehensive yet easy-to-use platform will be essential for driving superior results in 2023!
Top Text To Speech Online Software To Try Out Today!
Let's look at some best examples of text to speech online apps you can use.
1. WebsiteVoice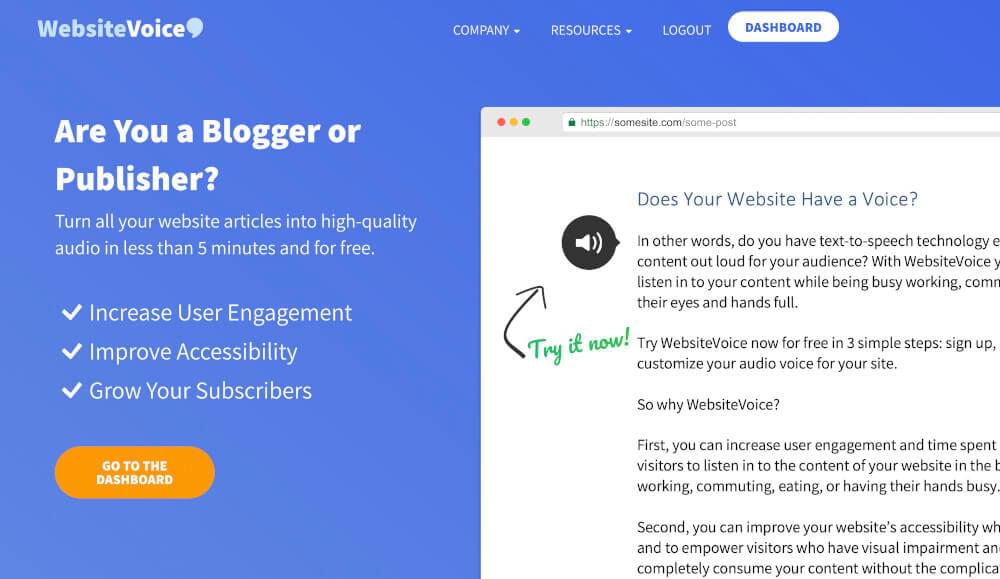 WebsiteVoice is a text-to-speech revolutionary tool designed to help businesses improve their online presence. With the use of cutting-edge technology and automatic content recognition, this online software can convert any text into a natural sounding voice in just minutes.
Whether you're looking for a female or male narrator to add interest to your website's content, WebsiteVoice will become your go-to resource. By simply uploading a text file on your website or blog, you can immediately get access to engaging audio that matches the mood of your website users—making it easier than ever before to engage with visitors on the web.
With improved AI generated voices, you can use WebsiteVoice Text To Speech Online Software for podcasts, blogs, promotional videos, and voiceovers for websites — virtually anything. Plus, you can be rest assured that you'll get professional results every time! Try WebsiteVoice Text To Speech Online Software today to see how your website text can speak to your online users.
Key Features:
Accessibility features
MP3 download for audio file
Automatic text reader
UVT voice speed control
Social media sharing of the page/blog
More fast audio conversion
Currently available in 38 languages
Analytics dashboard for audio plays
WordPress plugin available
Player widget customization
Pricing:
Free trial available
Starter plan is at $9/month
Premium plan is at $29/month
Professional plan is at $49/month
Try your free 14-days trial of WebsiteVoice now!
2. Amazon Polly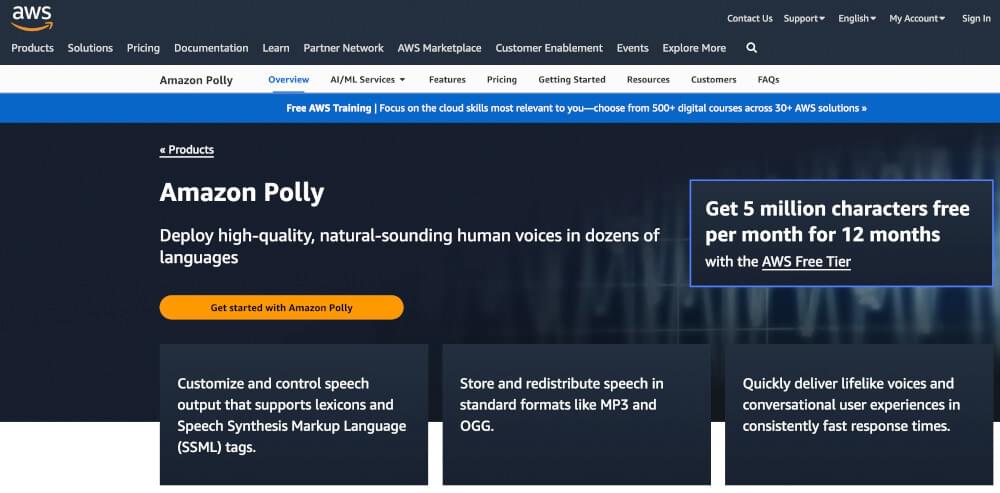 Amazon Polly is a Text To Speech Online Software that enables users to quickly turn their text-based content into lifelike, natural sounding speech. The AWS-powered software benefits individuals who have difficulty reading or are looking for a more engaging and dynamic way to communicate with their audience.
By using this Text To Speech solution users can have a wider range of delivery options as they can use multiple voices and languages. Text To Speech technology has potential application in many industries, ranging from voice enabled mobile apps to accessibility platforms.
With Amazon Polly software, businesses can integrate the power of Text To Speech technology into their products, increase customer engagement and reach more customers around the globe.
The service is also very cost effective, saving time and improving efficiency for businesses as well as individuals alike. Amazon Polly Text-To-Speech online software is not only changing the way people communicate with artificial intelligence but also bridging the gap between written language and voice output.
Key Features:
Speech output control and customization
Redistribute speech in MP3 and OGG format
Speech Synthesis Markup Language (SSML) tags available
Life-like conversational user experience
Adjust speaking style, rate, and speech
Multiple language available
Pricing:
Free tier
Pay as you go model with variable pricing
3. Murf.AI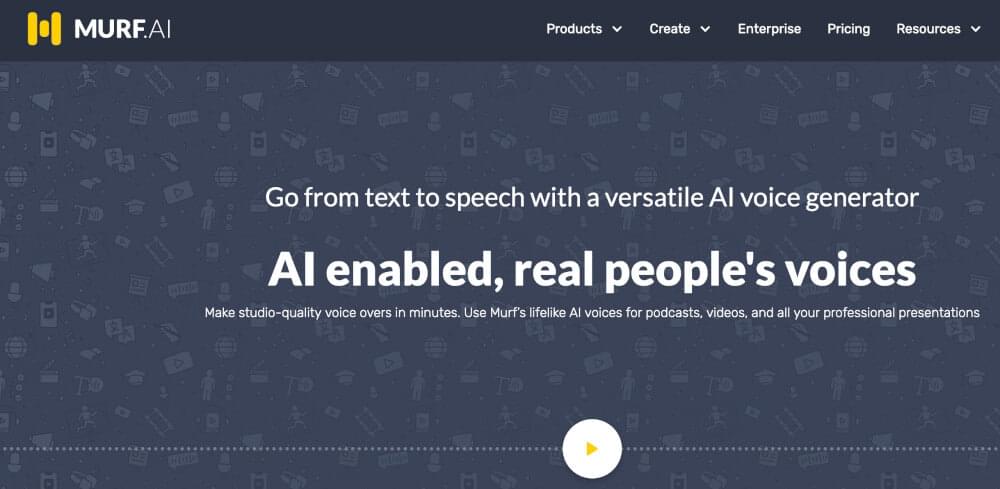 Murf.AI is an innovative text-to-speech online software that has completely transformed the way we communicate with technology. It brings with it a new level of ease and convenience when it comes to verbalizing words on the web in a variety of different languages.
Text is converted into speech quickly and accurately with Murf.AI's proprietary technology, and the quality of voice is surprisingly realistic yet distinct from the everyday voices of people we hear daily.
This time-saving tool not only enables those with speech impairments to communicate more effectively but also offers users an easy way to add audio elements to business websites and videos, making them dynamic and engaging. Murf.AI Text-To-Speech software is revolutionizing communication as we know it, eliminating language barriers and beyond!
Key Features:
AI based voices
Preview feature
120+ text to speech voices available in more than 20 languages
Upload creatives and sync with the voices
Voice cloning and voice over videos
Voice changer
API available
Pricing:
Free plan availanle
Basic plan is at $19/user
Pro plan is at $26/user
Enterprise plan is at $59/user
4. Speechify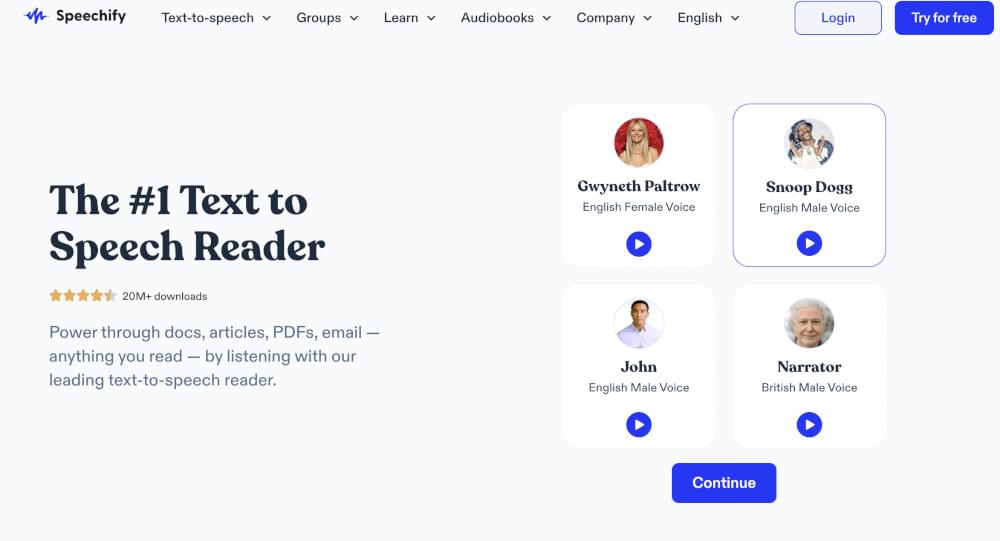 Speechify is a text-to-speech (TTS) software which converts written documents into voice audio files. This innovative technology can be used to capture the attention of readers and provide a unique, personalized user experience.
With Speechify's easy-to-use platform and integrated artificial intelligence, anyone can quickly create a professional TTS audio in minutes. The generated audio files can then be used for podcasts, narration, audio-books, infographics, webinars and many other applications. Speechify opens up limitless possibilities to make digital content engaging, accessible and dynamic.
It uses natural sounding voices instead of computer-generated speech to give life to any words you type – unique voices for any language, culture, or accent. It offers a range of features such as optimized audio files with transcripts, English language learning capabilities, nonverbal sounds and background music, and much more. Whether you're a student trying to pronounce difficult words or a author looking to bring their books alive, Speechify is the perfect text-to-speech solution.
Key Features:
Available on Google Chrome, iOS and Android devices
Adjust listening speed
AI reader with human sounding voices
Text to speech UAV file available
Audio file download
Document Upload
Pricing:
Free plan available
Speechify Premium is at $11.58/month
Speechify Audiobooks at $199/year
Related: History of audio storytelling: from radio to podcasts
5. Natural Reader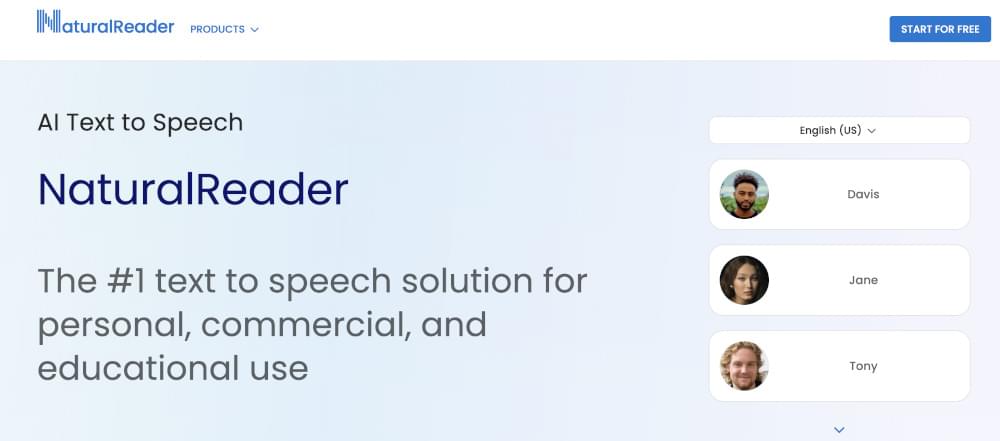 Natural Reader is an online text-to-speech software offering a range of natural sounding voices to read text that has been typed or pasted from any source. It is used to help people with communication difficulties, including those with learning and reading disabilities, dyslexia, blindness, and low vision impairments.
Natural Reader makes text content more accessible by converting it into human sounding audio that anyone can hear. Texts can be saved as audio files in MP3 format for easy reference anywhere at any time. It provides students, businesses, researchers and other users with several features such as automated proofreading, text to speech translation with over 100 supported languages and variables reading speeds to choose from.
In addition, multiple voices are available in both male and female gender giving the user more options to customize the Text To Speech playback experience depending on their needs. Ultimately Natural Reader transforms user's written words into speech providing greater accessibility to countless forms of digital content which helps make digital literacy easier for all!
Key Features:
Convert text online, from PDF and more than 20 other formats to audio
Cross platform compatibility
Available on desktop, mobile and Google Chrome
Download the MP3 file
Pricing:
Free plan available
Personal plan is at $99.50 (one-time)
Professional plan is at $129.50 (one-time)
Ultimate plan is at $199.50 (one-time)
6. Play.ht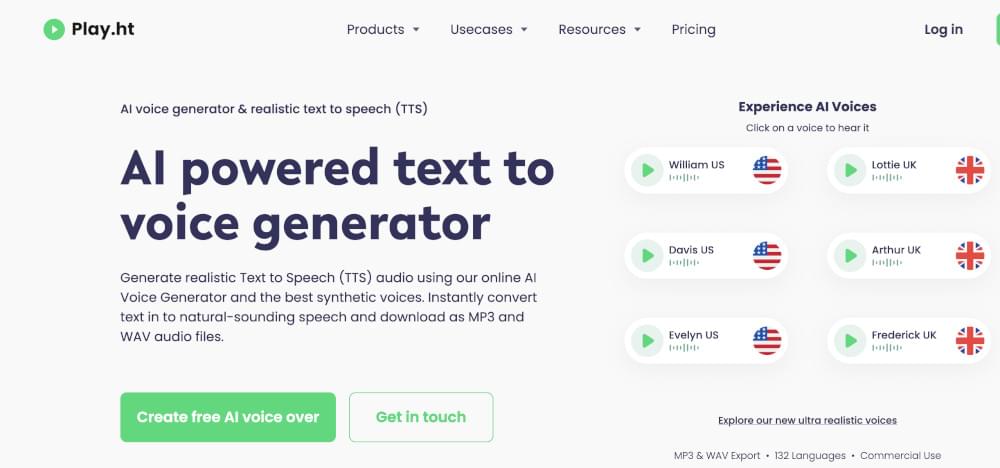 Play.ht is a software that simplifies text and speech processes. It helps users quickly convert text into professionally narrated voice-overs directly from their browser.
With convenient features like text editor, text recorder, and audio recorder, Play.ht makes it no longer necessary to hire professionals for text-to-speech projects. Users can easily create engaging narrations for advertisements, eLearning projects, and videos without breaking the bank.
Plus, audio files can be downloaded to local machine or the cloud in high quality formats like MP3, WAV and more. All these features make Play.ht an ideal text-to-speech tool for entrepreneurs who need fast and easy access to quality text narrations at an affordable price point.
Key Features:
800+ premium AI voices
Voice cloning and Text-to-voice editor
Audio widget customization
Create and publish content on podcast platforms such as iTunes
Team access available
Pricing:
Free plan available
Professional plan is at $39/month
Premium plan at is $99/month
Custom enterprise plan is available
7. Descript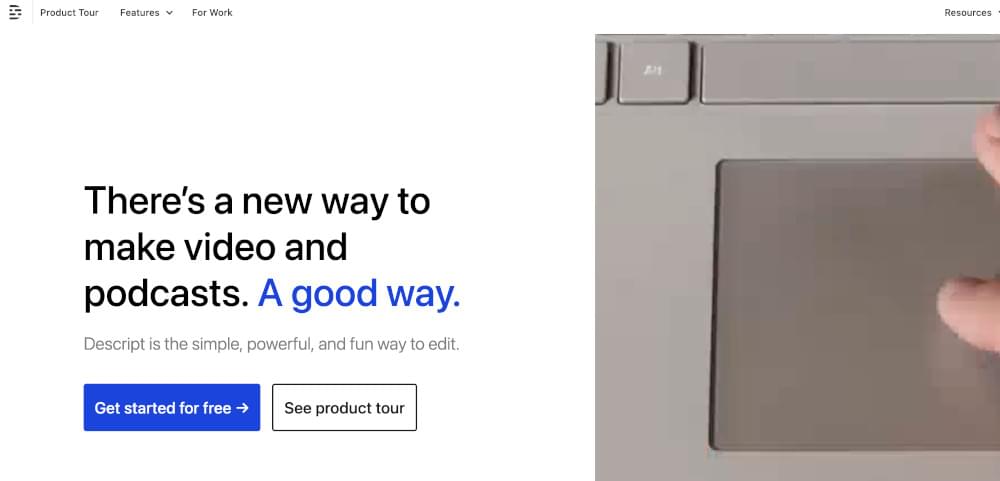 Descript is text-to-speech online software that enables users to quickly and easily generate synthetic voices from text using artificial intelligence. With a single click, the technology can turn text into natural-sounding speech with text editing included.
This is helpful for streamlining communication, presentation, and other tasks that require audio files or recordings in a variety of languages making it an invaluable tool for anyone looking to create high quality text-to-speech content.
It has become popular among podcasters, social media professionals, YouTube content creators and more due to its straightforward and convenient nature. If you're someone looking to up your game when it comes to text-to-speech technology, Descript might be the perfect solution for you!
Key Features:
Video editing using docs and slides
Audio editing for podcasting
Screen recording
Transcription
AI based voices
Clip creation
Pricing:
Free basic plan
Creator plan at $15/month
Pro plan at $30/month
8. Speechelo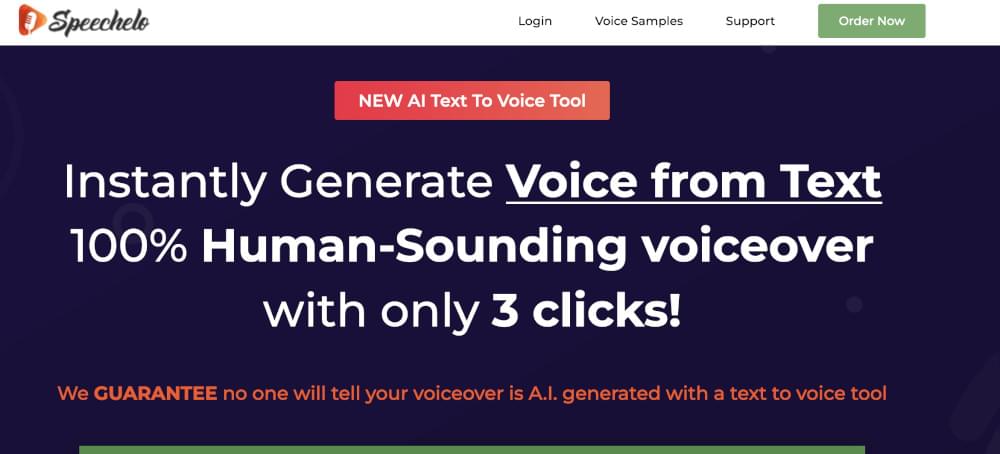 Speechelo is a text-to-speech online software enhanced with artificial intelligence technology. It allows users to create and produce podcasts, videos, lectures and other materials more quickly and easily than ever before.
Using this AI-based tool, users can quickly generate text-to-speech in over 30 languages within minutes - no script writing or microphone required. Speechelo uses text-based learning models to provide high-quality audio creation with various voice expressions and styles, so you can create a truly unique experience for your viewers.
Whether you want to add a professional touch to common text presentations or create captivating advertisements for your business, Speechelo has you covered. Through its real time text-to-speech technology, the software allows users to customize recordings and add elements such as background music, effects, and more. It is the perfect way to take any text or multimedia project to the next level!
Key Features:
Generate voice from the text
Available in 24 languages
Works with video creation software
Audio downloads
Pricing:
9. Voicera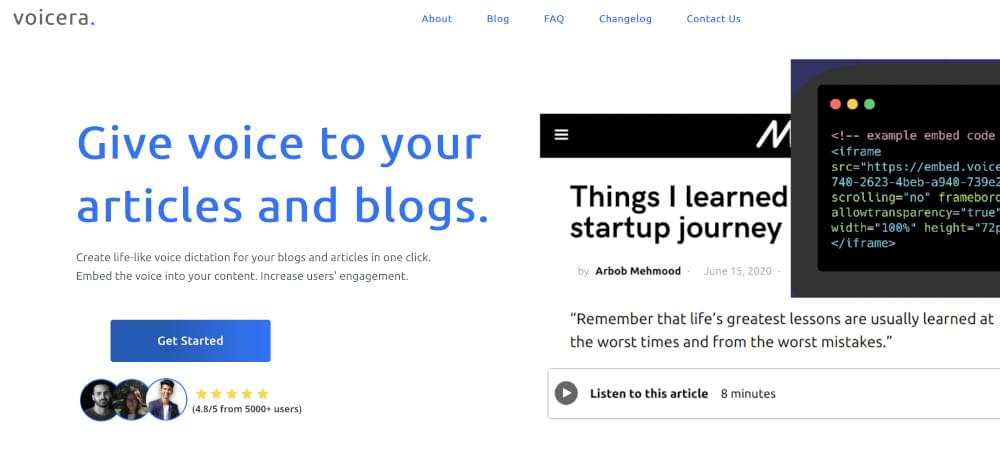 Voicera is text-to-speech online software that makes it easy for users to turn text into life-like speaking voices. With this technology, users don't need to be professional voice actors or hire a recording studio to create high- quality audio files.
Voicera provides an affordable way for anybody to create text-to-speech soundtracks with ease. All they have to do is type out the text they want spoken, and Voicera's text-to-speech engines will do the rest. With its expansive library of voices and languages, there's boundless potential for what text can be turned into audio with this powerful software.
Key Features:
Automatically detect content and generate audio
Available in 10+ languages
Human like voices
Voice speed control
Basic support
Pricing:
Ready plan with 200,000 credits at $29
Set plan at 1 million credits at $59
Go plan at 5 million credits at $79
10. Listnr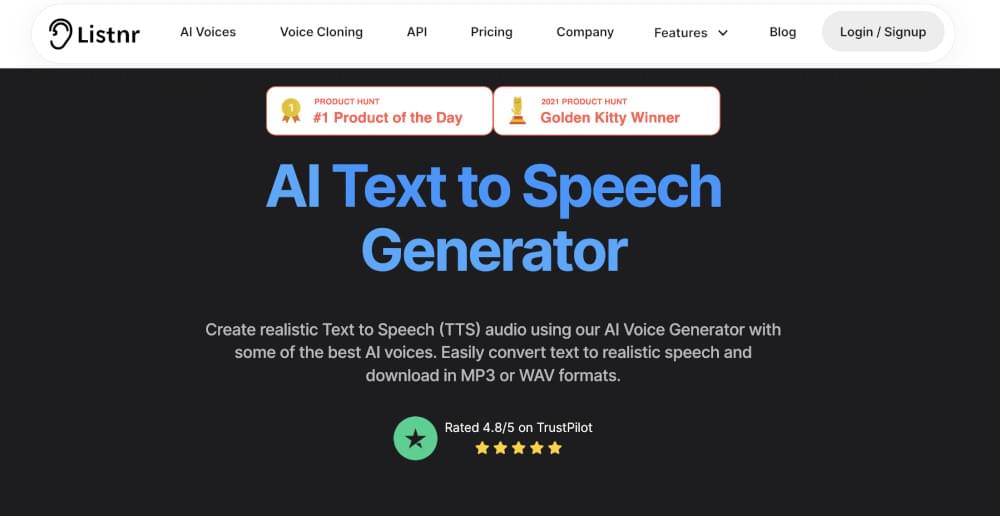 Listnr is text-to-speech online software that allows users to take text and quickly convert it into high quality audio files. The user can select a variety of voices and change the speed, pitch, and volume of the resulting sound. It has become increasingly popular for its ease of use, reliability, and affordability.
Listnr can be used to narrate scripts or drafts with increased accuracy, boost engagement on social media platforms with text-to-speech videos, and other potential professional applications. With Listnr's text-to-speech conversion capabilities, businesses are better equipped to reach their target audience faster and more cost-effectively than ever before.
Key Features:
Download in MP3 and WAV format
600 plus voices in 75+ languages
Helpful for audio book and podcasts
Voice cloning
API available
Pricing:
Individual plan at $19/month
Solo plan at $39/month
Startup plan at $59/month
11. ReadSpeaker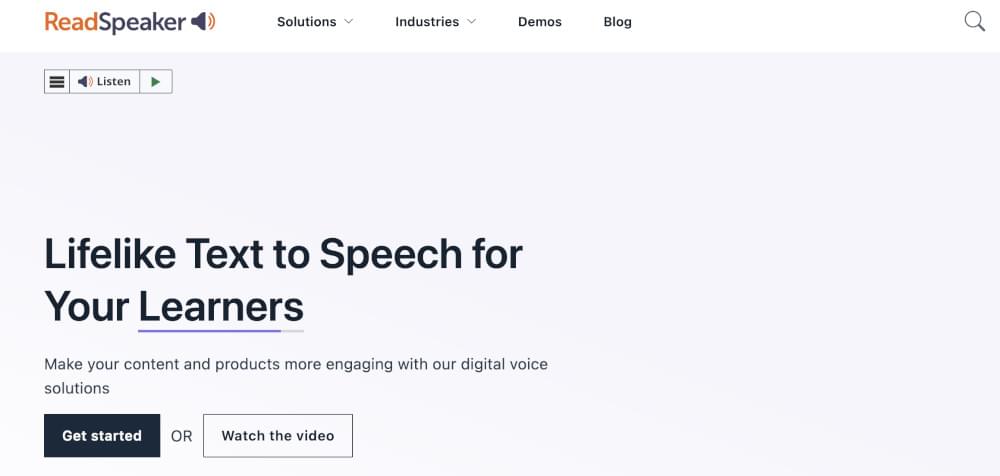 ReadSpeaker is a text-to-speech online software that has been developed to effectively deliver text content in over 50 voices and multiple languages. It provides many features designed to make text more accessible, such as text highlighting synchronized with the audio, single word pronunciation, and changeable text speed.
All solutions are customizable and can integrate perfectly into websites, mobile apps, and digital media players. ReadSpeaker's expertise in text-to-speech technology ensures high quality speech output that speaks naturally at various speeds while maintaining legibility.
With this innovative software, users can customize text and speech speed, create audio recordings from text, translate text into multiple languages including French, German and Dutch, and more.
Instead of hiring expensive audio engineers or navigating complex text-to-speech programs, ReadSpeaker streamlines the process to help organizations save time, money and resources. ReadSpeaker is an essential tool for any business or organization looking to improve their audio sound quality without the hassle.
Key Features:
Web and document reader
Customizable audio widget
Speech maker online and for desktop
TextAid library
Speech cloud API
Speech engine SDK embedable
Pricing:
Variable pricing. Contact website for more details
How to choose the best text-to-speech online software?
The need for text-to-speech online software has increased due to the development of technology. With so many options available on the market, it can be overwhelming to decide which text-to-speech software is ideal for you.
When narrowing down your search and picking the best text-to-speech online software, there are a few essential criteria that should be taken into consideration.
Firstly, consider what exactly you need out of text-to-speech software and make sure it meets your requirements.
Secondly, research the various companies offering text-to-speech software to figure out which option fits your budget and offers the right features.
Lastly, read reviews from experts and customers to get an understanding of their experiences before making a purchase decision. By following this simple process, you can be sure that you will be able to choose an online text-to-speech software that will meet all of your needs.
Conclusion
In conclusion, there is a variety of online text to speech software out there with different advantages depending on the outputs you need. This is great news for those who need to make audio recordings from written scripts, oral digital information for visually impaired individuals, or provide another angle to enhance customer experience.
The power of AI enables these applications to interpret individual character types, improve syntax and pronunciation levels, and build high-quality vocal outputs.
All of these features make WebsiteVoice one of the most versatile and user-friendly software packages available today. With its comprehensive range of features and its affordability, WebsiteVoice seems like it could be ideal choice to help increase efficiency while satisfying customer requirements.
So if you're interested in having access to the best online text-to-speech software out there, don't wait any longer - Sign up to WebsiteVoice today!
Improve accessibility and drive user engagement with WebsiteVoice text-to-speech tool