accessibility tutorials
10 Best Apps That Read To You
Sep 28, 202113 mins read
Are you someone who simply has no time to sit down and take the time to actually read through an entire article or story? Well then apps are your best friend. There are apps that read articles for you, apps that read those adorable children's books out loud to your kids at bedtime, and apps that read aloud to the blind and visually impaired – apps can do it all!
You can now survive a commute or workout without having to take your eyes off the road or a single rep off of the weight.
Why do you need an app that reads to you?
Apps that read articles for you are particularly useful if one has a visual impairment or, as mentioned above, a busy schedule. People who have visual impairments often use apps to read books and other written texts out loud to them.
Children can listen to bedtime stories using such applications instead of their parents read it loud for them, and visually impaired can read articles and even books with the help of such apps. Is there an app that reads text to you? The answer is yes, and these apps are easy to use by anyone.
In addition, apps can be very beneficial for those who commute by car or bike. In today's fast-paced society, people simply do not have time during their nightmarish commutes. What about those long hours spent in a doctor's waiting room? Apps that read to you can help.
"No time to read? Let see what apps do it for you. These voice apps can read any text out loud, making written words accessible for anyone."
Here are the 10 best apps that read to you including features and pricing: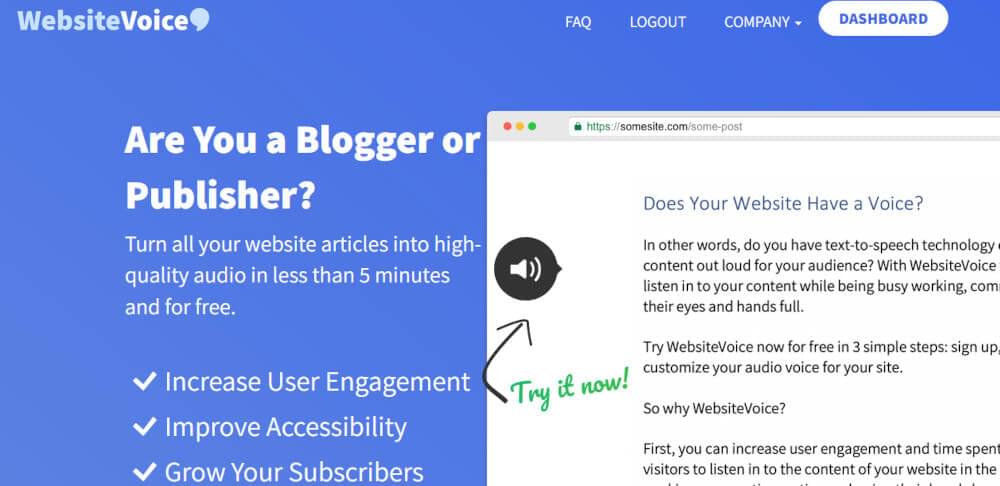 WebsiteVoice is one of the most advanced Text to Speech application that reads to you the content available on website. It can be embedded on almost any website or blog, and gives user the ability to listen to the online content with full control.
The widget of WebsiteVoice can be customized to match your branding or website theme, and choose the AI based voices from 38+ different languages. The tool can help anyone who wants to listen the text rather than reading it. Busy people, visually impaired people, or for the users who prefers to listen instead of reading text themselves can benefit from this tool.
Available on: WordPress Plugin | Web | Shopify
Key Features:
Widget customization
Automatic content recognition
Smart natural voice using AI and ML
Universal Voice Tailor (UVT) for speed control and maintain the pitch
Audio analytics
Fast audio conversion, and MP3 audio download
Accessibility features
Pricing:
Starter plan $9/month for personal blogs
Premium plan at $29/month with additional voices and accessibility features
Professional plan at $49/month for ultimate voice experience, audio downloads, and priority support
2. Read and Write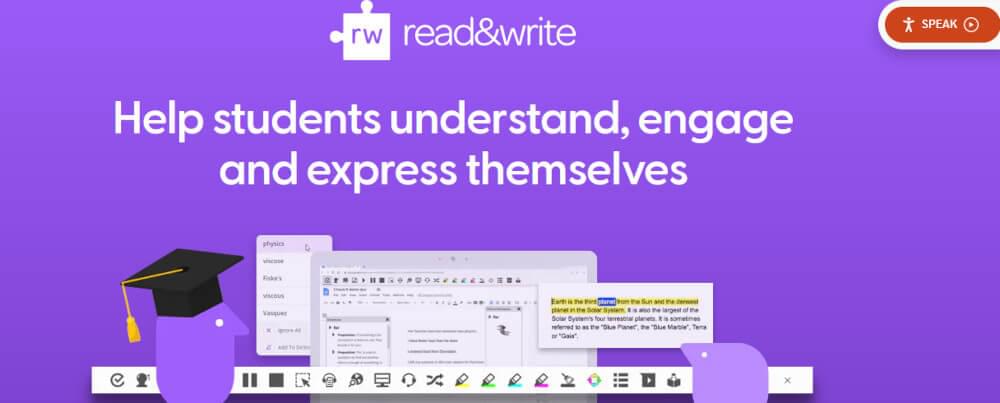 The Read and Write platform by TextHelp is used by educational institutes and even at workplace to support readers to turn text to audio. It makes it easy to write and read stuff online with the help of their Chrome extension.
The users can make use of this platform to read content from email, webpage, document or application. It can be used to scan documents and improve reading concentration using the screen masking feature. This platform also help in writing to make spell checks, and offers predictive text options.
Available on: Chrome | Android | Windows | iPad
Key Features:
Convert text to audio file
Text and picture dictionary
Text to speech tool to read passage
Talk and type to turn spoken words into text
Vocabulary list creation on new document
Pricing:
Individual plan at $145/year
Group pricing starting at $12 for at least 150 seats
3. Speechify

Speechify can help you turn the text into an audiobook. This tool is used to make readers more productive, increase retention rate and improve understanding. It is one of the app that reads to you that can create AI based voices that sounds more natural.
Users can upload the document, as file or from Google Drive, and can sync across different devices. This app that reads to you gives you better control on the pace that you want to listen the text. Moreover, you can use it easily on iOS and Android phones.
Available on: Chrome | Android | iOS
Key Features:
Speed control with up to 9X faster reading
Human sounding voices with different accents
Can read text from image
Can be used on different devices
Pricing:
Free basic plan
Offers in-app purchase for advanced features
4. Voice Dream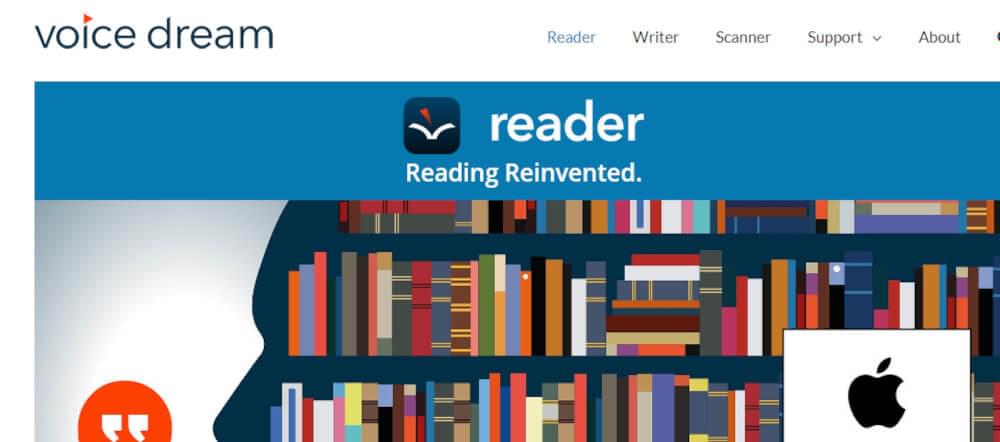 If you want to listen to the text from different documents, then Voice Dream is for you. This app that reads to you has various set of tools including scanning, writing, language support and a few more to help your online readers. This app offers different voice choices, and offers 30 languages (with more voices in paid plan).
This application highlights the text and read it to you from websites and even from documents uploaded. It is used for educational purpose, and can be easily used on tablet devices. This tool can be used to bookmark on online resources, and gives highlighter to main focus while reading.
Available on: iOS
Key Features:
Audio control for voice, pitch and pause duration
Skip margin text and citation
Different reading modes
Annotation tools and visual controls
Reading from Word document and PDFs
Pricing:
Basic free plan
Paid plan at $19.99 with more in-app purchases
Related:
21 Apps for Kids With Reading Issues
5. NaturalReader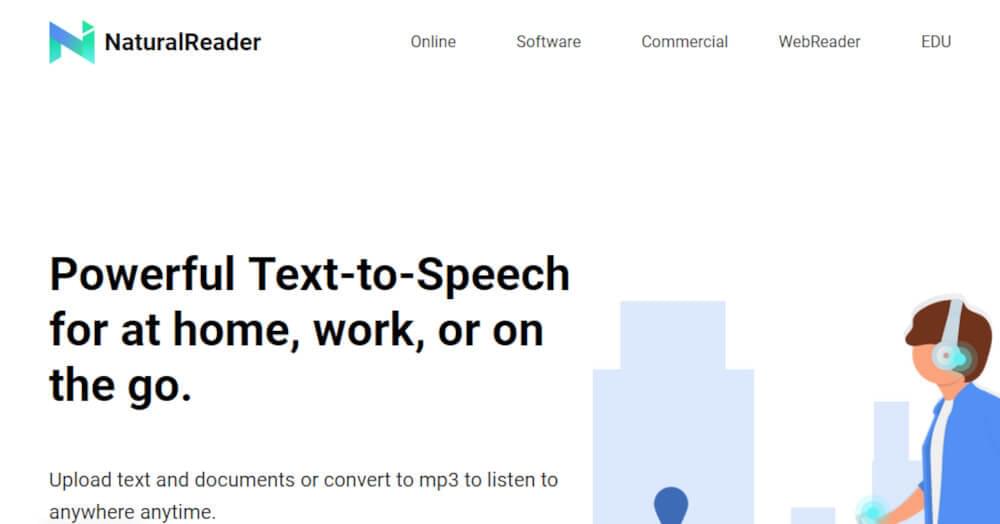 The NaturalReader app is one of the top rated apps that read text for you. This application gives you the ability to copy and paste text into the box to turn it to speech instantly, and download the audio file.
It gives a variety of human sounding voices to read your text, and upload document to convert it into an audio MP3. NaturalReader offers an online text-to-speech tool, downloadable software, commercial voiceover for videos, and online web reader.
Available on: Web | Chrome Extension
Key Features:
Text highlighting
Available in 18 different languages
Text-to-speech AI voice
Mobile optimized widget
Customization options
Pricing:
Basic free plan with limitation
WebReader Pro Plan starting at $99.90/month
Commercial voiceover plan starting at $49/month
Document reader plan starting at $99.50/month
6. ClaroSpeak

ClaroSpeak is a simple app to read aloud. This app helps in both reading and writing. User can control the reading pace and highlight the text to reduce distraction. It is a useful tool to dictate what you have written, and the tool reads back to you for better proof reading, and essay structure improvement.
It offers voices in 30 languages, and it can read from word documents, PDFs, and images too. The app can easily integrate with Dropbox and Google Drive.
Available on: iOS
Key Features:
Text highlighter
Auto correct and word prediction
Save to audio and speak in background
Nuance expressive and Acapela voices
Pricing:
Basic free plan
Premium plan at £9.99
7. TTSReader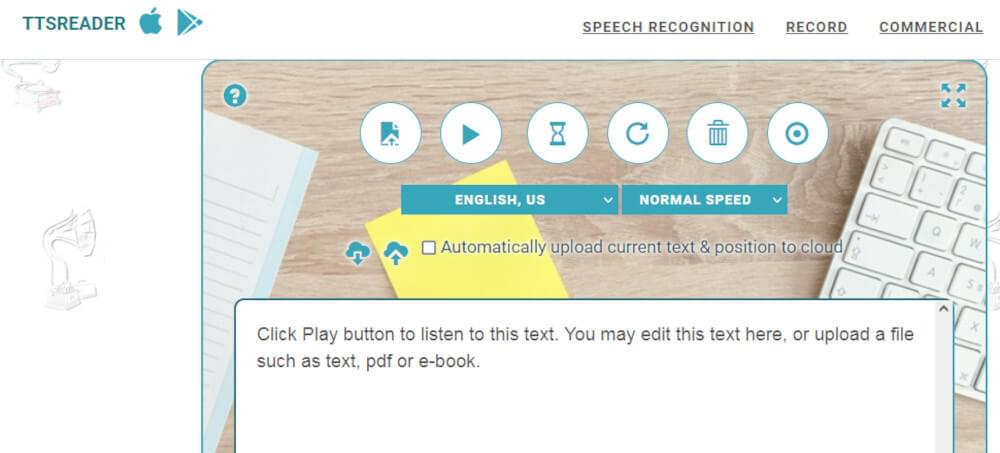 The TTSReader is an online text to speech application that read out loud to you text from PDF, online webpage, eBooks, and any text you copy/paste on the app. The widget remembers the last place where you stopped listening to the text, and play to you right from the current position.
It is available in multiple languages, and works well on different web browsers. You can use this powerful online app that reads to you anywhere from different devices.
Available on: Chrome extension | Android | iOS | Web
Key Features:
PDF and document reader
Export speech to audio files
Multilingual voices
Mobile apps
Pricing:
Free plan
In-app purchase available
8. Say It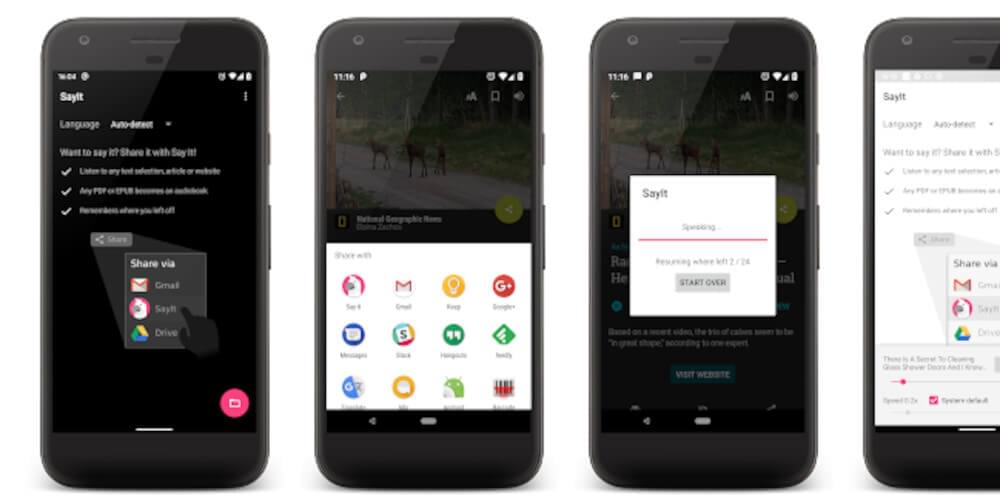 Say It is another used text to speech app that reads to you using mobile phone. It is available on Android and it is more of an Audio book with full features. It is available in multiple languages and help you read text on PDFs, websites, and online publications.
Using this app, you will just need to select the text and it will start reading automatically. You can also set the reading speed, change the accent, and convert the app theme to dark mode.
Available on: Android
Key Features:
Text selection to read
Remember where you left last time
Language recognition
Speed control
Pricing:
Free to use
In app purchase available
9. Pocket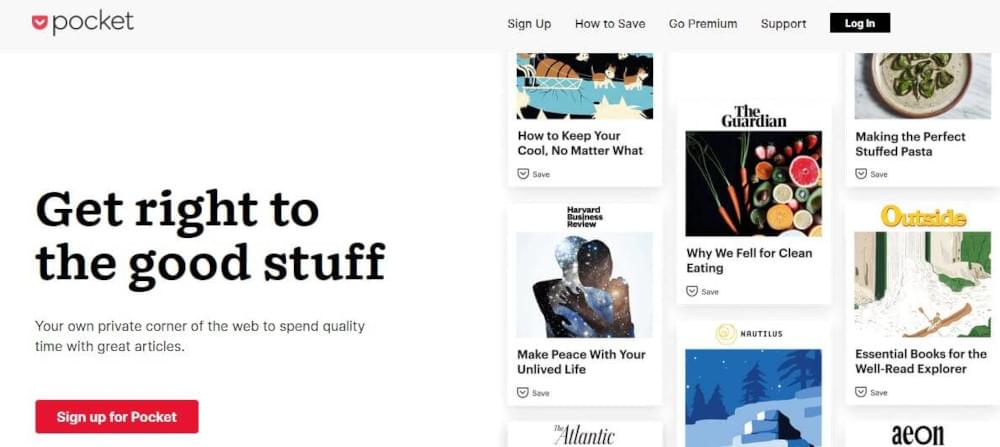 If you want to save articles to read later, then Pocket is the best fit for you. Pocket has a native text to speech feature that makes it one of the apps that read to you even in the offline mode. This application adjust the voice pitch according to your needs, offer multiple voices to choose from, and support multiple languages as well.
The users can bookmark the blogs when browsing on the search engine browsers, and even when you are traveling without internet service, you can still read and listen to the saved content. The Pocket app is available on the mobile devices and also available on Mozilla add-ons.
Available on: Android | iOS | Web | Chrome Extension | Mozilla add-on
Key Features:
Bookmark and save content
Accessible in offline mode
Save to Pocket Library
Change font styles and size
Add tags to the articles
Text search
Pricing:
Free to use
Premium monthly plan at $4.99/month
Premium annual plan at $44.99/year
10. Capti Voice
Capti Voice is an innovative technology created to help people better consume digital reading material. It is designed to be used with apps and websites, so that users can access apps that are already available but also be able to have their apps 'read out loud' to them.
Capti Voice assists users who may not have the ability to read independently or would prefer something different than traditional texts alone. It helps students from K-12 schools, colleges, and anyone who want to consume text based content in more interactive way.
The platform helps to read e-Books, web pages, documents, and blogs with an easy to use text-to-speech software. With its smooth integration of AI-based speech synthesis and distinctive text-to-speech capabilities, Capti Voice truly revolutionizes the way people process and interact with digital content.
Available on: Web | iOS | Chrome
Key Features:
Audio editing options like speed control and text highlighting for focused reading.
Read PDF documents
Automatic language detection and speech recognition
Reading comprehension exercises for students
Pricing:
Free for personal use, with in-app purchases starting at $2.99/month
Educational Institute plan starts at $300/year
Conclusion
The apps mentioned above do an excellent job of reading aloud any written text for you; however, they do not stop sounding robotic and monotonous. Choosing a perfect solution and finding apps that read to you may take some time but this can make you more productive.
Using such apps can help you read with pace, makes content consumption more engaging, and a great tool to proofread. Share with us which app your like that read aloud by writing to us.
Improve accessibility and drive user engagement with WebsiteVoice text-to-speech tool